Weekly Meditation Series Will Explore Values in Leadership
---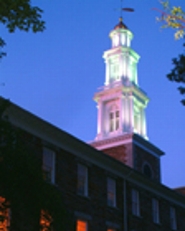 Hamilton College has announced an eight-week meditation series as part of its weekly Sunday Chapel Service. Services are every Sunday at 4 p.m. in the College Chapel. The theme of the meditation series is "Values in Leadership" and will explore the question, "What do we value in leadership?"

The schedule follows: Jan. 25, "American Prophet: Martin Luther King, Jr."; Feb. 1, "A More Perfect Union: Alexander Hamilton"; Feb. 8 will feature a guest speaker; Feb. 15, "Excising the Shame: Abraham Lincoln"; Feb. 22, "Democracy & Divinity: George Washington"; March 1, "The Leader's Mandate to Self-Evaluation: Jesus"; and March 8, "Setting the Mind on Human Things: Andrew Jackson."

Meditations are offered by College Chaplain Jeffrey McArn, reflecting on biblical texts, and communion is celebrated on the first Sunday of the month. The community is invited to attend. Music is led by Robert Ford and performed by student vocalists and instrumentalists. Offerings go to local and international agencies addressing particular needs. Services are open to all and no particular faith orientation is required or expected.