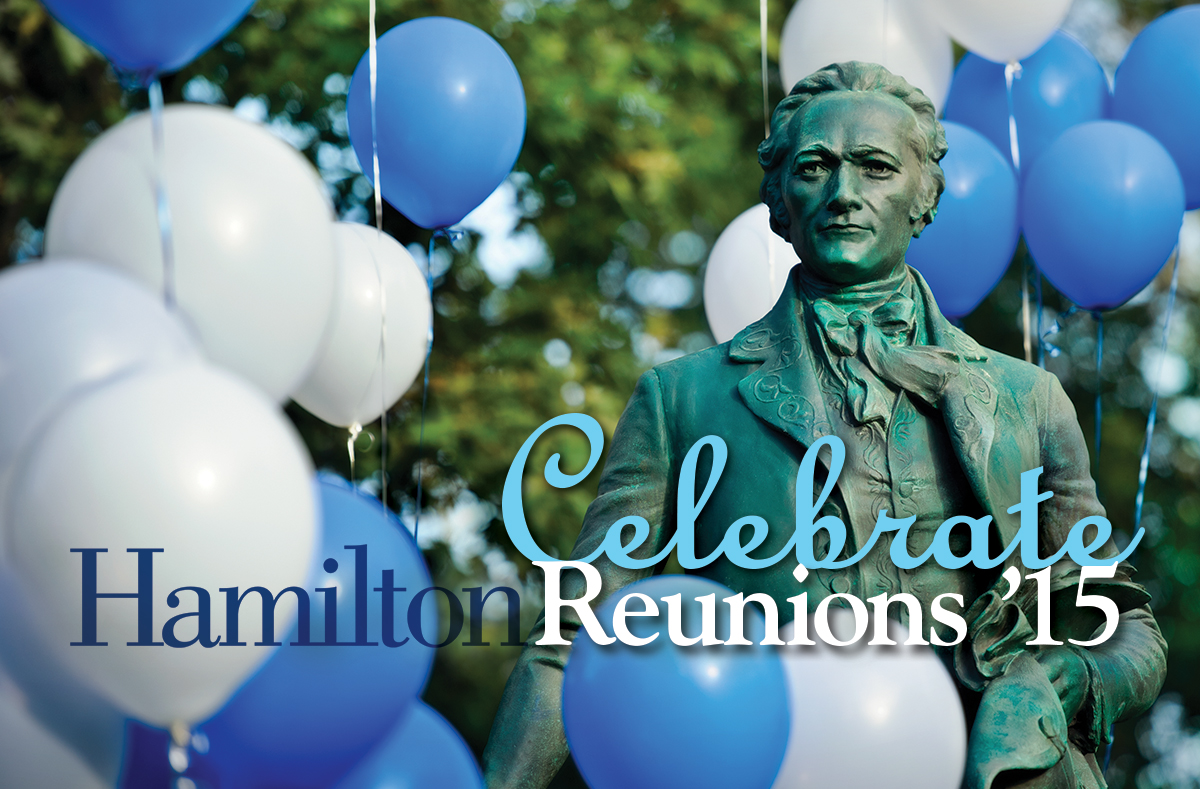 Hamilton will welcome back more than 1,100 alumni and their guests when it hosts the college's annual Reunion Weekend, this year on Thursday-Sunday, June 4-7. A special welcome goes to members of the class of 1965 who will be celebrating their 50th reunion, and the 50th anniversary of the signing of Kirkland College's charter will be commemorated. A full schedule of events will keep attendees busy throughout the weekend.
Reunion highlights this year include:
A diverse array of Alumni Colleges
Annual Meeting of the Alumni Association & Presentation of the Half-Century Annalist Letter
Service of Remembrance with the Baldwin and Reunion choirs
Class receptions and dinners, live music and dancing
Dedication of the Delaney Team Center
Fraternity, sorority, private society and Kirkland alumnae gatherings
Walking tours showcasing the historic beauty of the campus and new facilities
Events celebrating Kirkland College will include an opening reception in the Kevin and Karen Kennedy Center for Theatre and the Studio Arts to honor the matriculants whose names are listed on the Kirkland wall; Kirkland Echoes, plays written and directed by alumnae; readings from Lost Orchard, Prose and Poetry from the Kirkland College community; and Kirkland art show and The Kirkland Pioneers poster display.
Non-stop events begin on Friday, June 5. Peter Meinke '55 will read his poetry, including selections from his latest book, Lucky Bones at 10:30 a.m., and co-authors Chris Takacs '05 and Dan Chambliss, the Eugene M. Tobin Distinguished Professor of Sociology, will discuss the research underlying their recent book, How College Works at 11 a.m. Also at 11 a.m. Kirkland alumnae are invited to gather for a discussion of their experience as students on the Hill and how this has impacted their lives.
Join cultural writer and jazz producer Greg Thomas '85 and documentarian Carol Bash '85 for a revealing film screening and Q&A in a session called The Lady Who Swings the Band at 1 p.m. Orthopedic surgeon Jim Cobey '65, senior associate at Johns Hopkins Bloomberg School of Public Health, will share his campaign to bring attention to the issue of landmines in a session at 1:30 p.m. A panel at 2:30 p.m. will explore Athletics in Higher Education: A Personal Perspective, and in another 2:30 p.m. talk, Steve Rabe '70, the Ashbel Smith Professor of History at University of Texas at Dallas, will discuss the 1960s.
At 3 p.m. Mike Evans '05, the founder and president of Full Court Peace will discuss Non-Profits, and The Discovery Process of Documentary Filmmaking will be led by Emmy-winner David Grubin '65, a director, writer, producer and cinematographer who has produced more than 100 films.
Beginning at 4 p.m. the 25th Reunion Class of 1990 Presents "ALEX-talks" (or Ted-style talks), hosted by Tom Brush. Presenting ALEX Talks are: Dave Hoffman '90, director of security policy at Intel Corp.; Sue Devine '90, head of investment at Slated; Steve Musselman '90, assistant public defender, Maryland Public Defender's Office; Tracey Strook McFarland '90, founder and CEO of In House Arts and Entertainment; Herb Hand '90, offensive line coach, Penn State; and Edvige Jean-Francois '90, senior producer of CNN International Special Projects.
In the Alumni College "From $2,500 to $60,000 in 50 Uneven Steps," Trustee Joel Johnson '65, will discuss the cost of a liberal arts education at 4:30 p.m.
Throughout the weekend enjoy performances of The Orchard: New Playwriting and Screenwriting Showcase. Piloting on the Hill this June, the Orchard is an artist residency and development program that brings together alumni and students to create and share work in the performing arts.
Sports enthusiasts can take part in the 8th annual bicycle ride, the Jake Shapiro '05 memorial soccer tournament, the Long Run or Winton Tolles Carter Cup Golf Tournament.
Join Steve Rounds '65 on Saturday morning as he delivers the Half-Century Annalist Letter at the Annual Meeting of the Alumni Association. In addition, President Stewart will address the assembly, and the Bell Ringer Award will be presented to Carlyle "Connie" Ring '53.
Saturday highlights include My Turn to Speak: Kirkland and Hamilton in Conversation, a chocolate cooking demonstration by chef Steve Durfee '85, a talk about hydrofracking, and a Kirkland authors' fair. Visitors can take in the beautiful campus with a garden party in Grant Garden and a tour of Rogers Glen.
The evening will feature class receptions and dinners and the Saturday Night Dance Party.