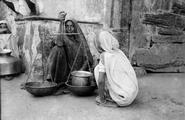 A reception honoring Pranlal Patel's son and grandson, who have traveled from India to view the Wellin Museum of Art exhibition "Refocusing the Lens: Pranlal K. Patel's photographs of women at Work in Ahmedabad," will take place on Wednesday, April 2, from 4 to 5:30 p.m. in the Wellin Museum. The public is invited to attend.
Anand and Gautam Patel are active photographers who run the Patel Studio founded in 1937 by the late Pranlal Patel. Enjoy casual conversations with the photographer's family over tea with homemade Indian snacks, tea sandwiches, cookies and fruit. This is the final event to celebrate Refocusing the Lens, which will be open until April 15.
ARTnews has included the Wellin exhibition in "10 Must-See Museum Photo Shows of Spring 2014," along with shows at the Morgan Library & Museum, the Metropolitan Museum of Art, the Museum of Modern Art, Yale University Art Gallery, the High Museum of Art, the Philadelphia Museum of Art, the Art Institute of Chicago and the Nelson–Atkins Museum in Kansas City, Missouri.
Indian photographer Pranlal K. Patel (b. 1910-2014), an active photographer for 70 years, was approached in 1937 by a women's social reform organization in India to photograph women engaged in a variety of economic activities that supported the growing city's life. "Refocusing the Lens" provides unprecedented insight, via the images he captured, into the lives of working-class women as they performed a range of labor activities inside their homes as well as within the city's neighborhoods and its major markets. Patel had planned to travel to the U.S. to see the Wellin exhibit but died earlier this year at the age of 104.
The ARTnews article describes the exhibition as providing "an intimate and respectful look at a complex and usually hidden economic and social world."
According to the publication's website, ARTnews is "the oldest and most widely circulated art magazine in the world with a readership of 180,000 collectors, dealers, historians, artists, museum directors, curators, connoisseurs, and enthusiasts."