Wellness Fair Encourages Healthy Habits
---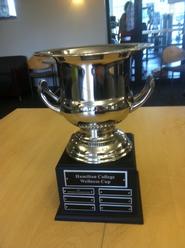 The second Hamilton College Wellness Fair or "Hamil-Health" will take place on Wednesday, April 4, from 11 a.m. to 2 p.m., in the Tolles Pavilion. Comprised of more than 50 vendors and representatives from healthcare, fitness and nutrition organizations, this free, interactive and educational event will provide many opportunities to learn new strategies to enjoy a healthier, happier life.

"We are promoting a culture of health and wellness at Hamilton because activity, good nutrition, health screenings and stress reduction strategies have the potential to improve our well-being and productivity," explained Karen Leach, vice president administration and finance. "Over the long run, engaging in wellness activities can also can help lower the cost of health care for employees and the College."

Hamil-Health will offer health screenings, and representatives from such organizations as the Red Cross, Mohawk Valley Heart Institute and New Hartford Hospice will be present. Also featured will be vendors from spas, medical equipment companies, music therapists, massage therapists, acupuncture, and fitness and running organizations.

"The vendors are so generous to donate their time to help Hamilton employees learn about the wealth of resources available to them," Leach remarked.

Employees are urged to attend the Fair in an effort to help their division win the coveted Wellness Cup. It's awarded to the division of the college with the highest participation in the Wellness Fair and Hamtrek which will take place on May 4. Last year the Cup was awarded to Information Technology Services with 84 percent attendance, followed by Admission & Financial Aid in a close second with 80 percent participation.