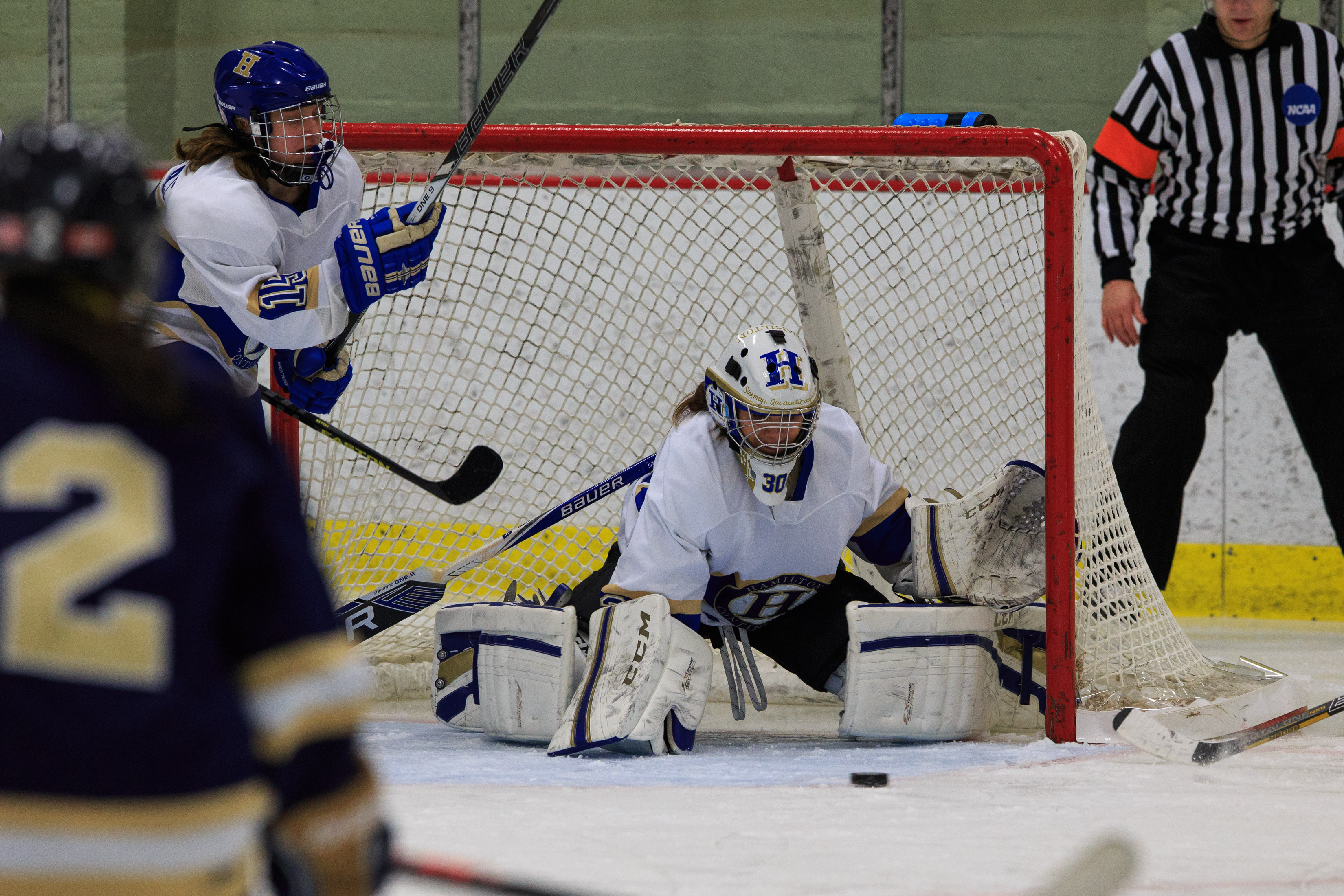 The Hamilton College women's hockey team dropped a 2-0 decision to Wesleyan University in the opener of a NESCAC weekend series on Friday at Hamilton's Russell Sage Rink. The Continentals (7-9-3, 1-8-2 NESCAC) outshot the Cardinals 34-18.

Box score

Wesleyan (8-9-1, 3-7-1) killed three Continental power plays and held Hamilton scoreless during 55 seconds of six-on-four hockey after the Continentals pulled their goaltender for an extra skater late in the third period.

Corinne Rivard '16 made 34 saves for the Cardinals, who recorded their third shutout in four games. Her 13 third-period stops included four in the final 85 seconds. Hamilton enjoyed a two-skater advantage for the first 55 seconds because of a Wesleyan penalty, then skated six-on-five after the Cardinals returned to full strength.

Jordan Schildhaus '15 had a hand in both Wesleyan goals, scoring the first and assisting on the second. She put the Cardinals up 1-0 at 10:51 of the first period, scoring her 11th goal of the season on a rebound of a shot initially saved by Hamilton goaltender Sam Walther '17. Walther stopped a shot by Cara Jankowski '15 but the rebound bounced off a defender and the puck wound up at the post on her stick side where Schildhaus pushed it in.

On the power play at 5:16 of the third period, Laura Wasnick '15 took a pass at the right circle from Schildhaus and sent a shot to the near post that was redirected into the net by Ellery Sarosi '17.

Rivard benefitted from a pair of fortuitous bounces in the second period, stopping shots by Courtney Power '15 four minutes in and Hannah Bartlett '16 with two minutes left. On both occasions the puck bounced off her stick and behind her but both times it landed wide of the net and was cleared away. Rivard also came up big in the waning seconds of the period when Bartlett skated in alone on a breakaway; Rivard slid to her left and made a pad save on Hamilton's leading scorer.

The teams wrap up their series with a 3 p.m. game on Saturday, Feb. 7.