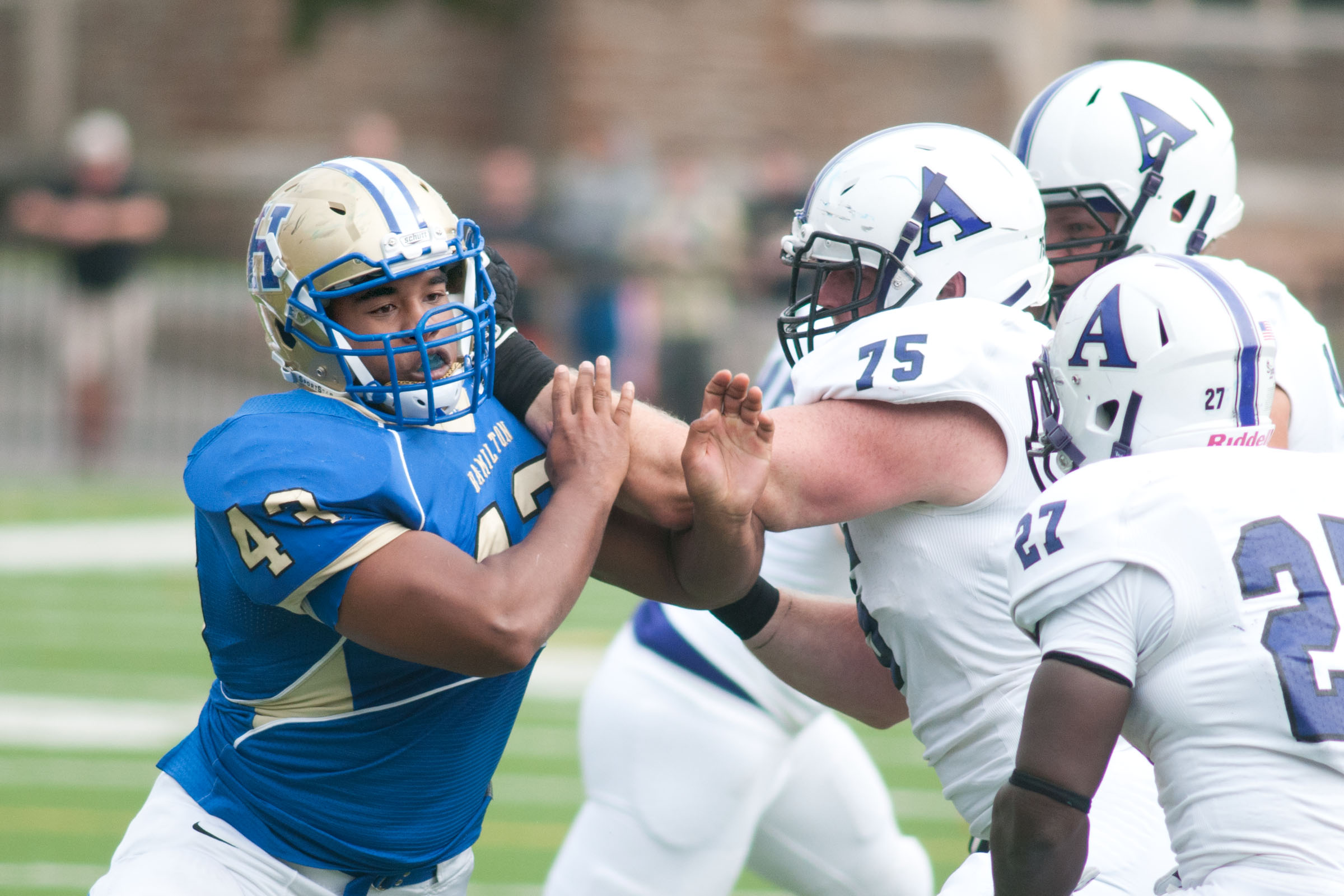 The Hamilton College football team lost 43-21 to Wesleyan at Andrus Field in Middletown, Conn., on Saturday afternoon. The Continentals (0-2, 0-2 NESCAC) pulled to within 21-14 in the final minute of the first half before the Cardinals (2-0, 2-0) ran off 16 straight points to take control.

Box score

Chase Rosenberg '17 threw an 18-yard touchdown pass to wideout Patrick Donadio '15 with 2:38 left in the half as the Continentals cut Wesleyan's lead to 21-14. The Hamilton defense needed just one play to get the ball back with lineman Nick Sobczyk '17 sacking Wesleyan quarterback Jesse Warren '15 and forcing a fumble that Brent Lobien '17 recovered at the Cardinal 22-yard line.

Hamilton went three-and-out and Wesleyan scored three times in the first 17:22 of the second half. The Cardinals recorded a safety on the Continentals' opening possession of the third quarter, then scored touchdowns on each of their next two drives to push their advantage to 37-14.

Donadio also caught a 5-yard touchdown pass midway through the final quarter to close out Hamilton's scoring. Wesleyan responded with a touchdown run by Kyle Gibson '15 – his second of the day.

Gibson ran for a game-high 132 yards on 22 carries. His first score, a 1-yard run late in the first quarter, gave Wesleyan the lead for good.

The Cardinal defense contributed two scoring plays, including a 52-yard interception return by Jake Bussani '14 on Hamilton's third play from scrimmage. The Continentals tied the game on their next possession, with Rosenberg capping an eight-play, 73-yard drive with a 35-yard scoring pass to Nick Caso '16. Zach Altneu '18 followed Caso's touchdown (the first of his career) with the first of his three extra-point attempts.

Another Wesleyan interception set up Gibson's go-ahead touchdown. After a Warren punt was downed at the Continental 10, Wesleyan's Alex Daversa-Russo '16 intercepted a Rosenberg pass at the Hamilton 20 and returned it 13 yards. Three plays later, Gibson's touchdown gave the Cardinals a lead they never relinquished.

Warren, who completed 12 of 14 passes for 147 yards, drove the hosts 60 yards in 10 plays on their next drive with tight end Ben Kurtz '17 catching a 5-yard touchdown pass. Two of Kurtz' three catches were for scores.

Another punt set up Wesleyan's third-quarter safety. After Warren's 34-yard kick was downed at the Continentals' 1-yard line, lineman Nik Powers '15 and defensive back Justin Sanchez '17 stopped Hamilton's running back for no gain on first down. Donnie Cimino '15 and linebacker Jake Siciliano '15 dropped him in the end zone on the next play for two points.

Wesleyan scored on its next three drives, starting with a 3-yard run by Lou Stevens '17. Ike Fuchs '17 kicked extra points after the Cardinals' first four touchdowns.

Linebacker John Phelan '16 led Hamilton with nine tackles and he also recovered a fumble. Cornerback James Taylor '17 had five solo stops among his career-high eight tackles. Linebacker Cade Larabee '16 was in on eight tackles and safety Alex Mitko '16 made seven tackles. Tackle Michael de Percin '15 had a hand in four tackles for loss.

Rosenberg completed 14 of 30 passes. The Continentals' leading rusher was LaShawn Ware '17, who ran for a career-best 74 yards. Caso was the game's leading receiver, matching a personal high with seven catches for 90 yards. Donadio caught four passes, including his two touchdowns.

Wesleyan defensive back Justin Sanchez '17 led all players with 10 tackles. Siciliano and Daversa-Russo added eight apiece.

The Continentals return to Steuben Field for their home opener next Saturday, hosting Trinity at 1 p.m. The Cardinals play a 1 p.m. game at Colby.