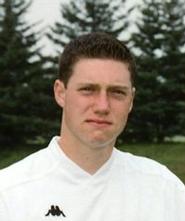 The Hamilton College softball team dropped both ends of a NESCAC West Division doubleheader at Wesleyan University on Saturday afternoon. The Cardinals were 3-2 winners in game one and won the nightcap 9-0 in six innings.

Game 1 Box | Game 2 Box

The Continentals (7-9, 2-2 NESCAC West) held a one-run lead in the opener before the hosts tied the game in the fifth and scored the winning run on an infield error in the seventh.

Hamilton was retired in order in the bottom of the seventh. The Continentals batted as the home team because the series had been scheduled to be played at Hamilton before being moved because of field conditions.

The Continentals scored their runs in the third inning. Hannah Staab '17, who had two of the Continentals' three hits, followed a leadoff walk to Julia Carpenter '18 with an RBI double to left field. One out later, Olivia Gozdz '16 lined a double to center that scored Staab.

Wesleyan's Susan Pardo '16 retired 14 of the next 17 batters. Staab singled and Gozdz walked in the fifth and Ellie Kiernan '15 was hit by a pitch to lead off the bottom of the sixth.

Angelina Massoia '17 scored the winning run after leading off the seventh with a single. She moved to third on a pair of groundouts and scored when Pardo reached on a misplayed ground ball.

Izzy Linzer '17 singled in Annalie Walsh-Costello '17, who had led off the fifth with a single, to tie the score.

Wesleyan (9-9, 2-2) took a 1-0 second-inning lead on a run-scoring single by Walsh-Costello that brought home Jamie Hom '17. Pardo fanned nine in the complete-game win, earning her first victory of the season.

Kelly Leonard '15 struck out five for Hamilton, raising her career total to 322 and breaking the school record set by Megan Coughlin '09, who collected 319 from 2006 to 2009.

In game two the Continentals were held to two hits and Wesleyan sealed the win with a seven-run sixth inning. Linzer and Pardo both hit two-run singles to highlight the Cardinals' sixth-inning outburst. Jill Gately '15 also drove in a pair of runs.

Linzer had three hits with Gately, Rielly Wieners '17 and Amanda Roosa '16 adding two apiece.

Julie McDonald '18 struck out six Continentals in the complete-game win and held Hamilton hitless over the first 4.1 innings. Phoebe Collins '18 singled with one out in the fifth and Monique St. Jarre '15 doubled in the sixth.

The teams conclude their weekend series with a 10 a.m. game on Sunday, April 5.