Wharton Professor, Author Sean Safford to Discuss Rust Belt Cities
---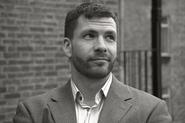 Sean Safford, visiting professor of management at the University of Pennsylvania's Wharton School, will give a lecture on Wednesday, Nov. 10, at 7:30 p.m., in the Fillius Events Barn. The lecture, based on his book, is titled "Why the Garden Club Couldn't Save Youngstown: Lessons for Regional Resilience," and is part of the 2010-11 Levitt Center series on "Sustainability." It is free and open to the public.

Safford studies social, economic and technological change, particularly in mature industrial economies; and historical social network analysis. His book Why the Garden Club Couldn't Save Youngstown: Social Networks and the Transformation of the Rust Belt was published by the Harvard University Press in 2009. The book is about economic change and crisis and how cities succeed or fail in their attempts to adjust, adapt, and evolve in the face of major change events. It won the Sage-Louis Pondy Prize for best paper from a dissertation by the Academy of Management's Organization and Management Theory Section as well as Best Paper from a Dissertation from the Economic Sociology Section of the American Sociological Association.

After graduating from the School of Industrial and Labor Relations at Cornell University in 1994, Safford received his Ph.D. in economic sociology from MIT's Sloan School of Management in 2004. From 2005 to 2010 he was an assistant professor at the University of Chicago's Graduate School of Business.