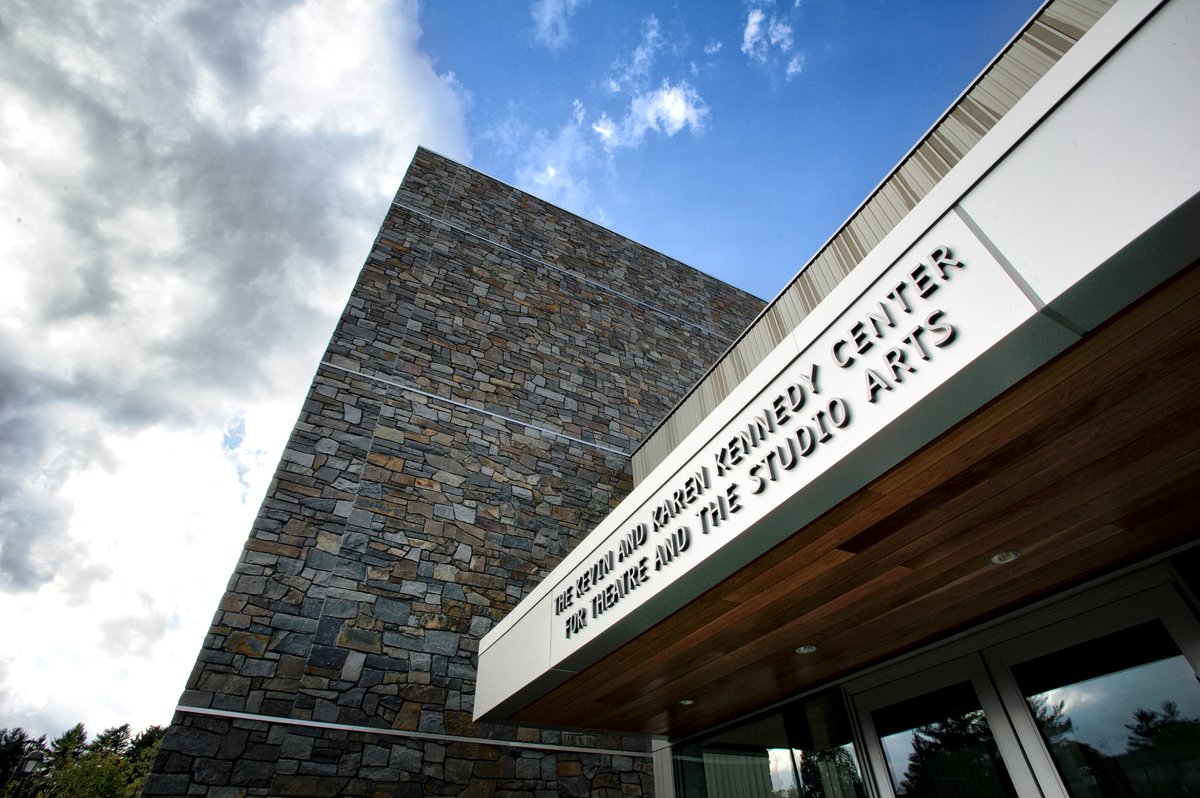 With the gleaming new Kevin and Karen Kennedy Center for Theatre and the Studio Arts as its centerpiece, the combined Fallcoming and Family Weekend celebrated the arts over three days of glorious Central New York autumn weather.
Throughout the weekend families and alumni took part in guided tours of the new center that was dedicated on Oct. 10, enjoyed the Alyson Shotz exhibit that opened at the Wellin Museum, viewed student research posters and welcomed Alex, Hamilton's new mascot.
Linda Johnson '80 was honored as the Jeff Little '71 Volunteer of the Year for her work as chair of both the Board of Trustees' Committee on Buildings, Grounds and Equipment and its Subcommittee of Arts Facilities. She was instrumental in transforming from concept to reality the Wellin Museum of Art and the Kennedy Center.
Life trustee Nancy Ferguson Seeley GP'17 was honored with the Bell Ringer Award. Part of a family whose ties to Hamilton have spanned more than 140 years, she established the Ferguson-Seeley Faculty Innovation Fund that has enabled countless student and professors to collaborate on research.
The Helen Doane Comstock lunch celebrated student scholarship and enabled students to meet the donors who make their scholarships possible.
The Kennedy Center dedication on Friday featured remarks by Chairman of the Board of Trustees Stephen D. Sadove '73, P'07,'10, '13, President Joan Hinde Stewart, Professor of Music Sam Pellman, Wynn Van Dusen '15 and Kevin Kennedy '70, followed by a ribbon-cutting.
Kennedy majored in art at Hamilton and went on to have a successful career in finance. In his remarks he stressed the importance of a liberal arts education. The late Economics Professor Sidney Wertimer was Kennedy's advisor during his first two years at Hamilton, and Kennedy recounted how Wertimer encouraged him to major in art and take dance as well as accounting. "Sidney believed in the benefits of a liberal arts education and urged me to test myself in unfamiliar fields, and I thank him to this day," Kennedy said.
In the spirit of the weekend's celebration of the arts theme, alumni took part in a career panel on "Making Art Happen" and art faculty led a discussion on "Finding a Place for the Arts."
Alumni and families also cheered on the Continentals in a NESCAC weekend vs. Bowdoin and the cross country teams hosted the Hamilton Invitational.

View all the Fallcoming and Family Weekend photos on Flickr.

Local media coverage of the Kennedy Center dedication: