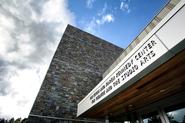 In the coming weeks the Hamilton Communications department will review the college news that drew the most interest from national and local media in 2014. Here's a look back at the 10 stories that garnered the greatest attention on Hamilton's news site this year, based on the number of views.

The most-viewed story of the year appeared in April when the College announced that the new theatre and studio arts building would be named for Kevin and Karen Kennedy in recognition of their lifetime giving to the college, including $10 million for the new project.


A story about the passing of long-time professor Jonathan Vaughan, the James L. Ferguson Professor of Psychology, in September drew not only thousands of views but also inspired numerous comments from his colleagues, students, alumni and friends.

Derek Jeter Great Names Ticket Information Two stories leading up to the appearance of N.Y. Yankees captain Derek Jeter as a guest in the Sacerdote Great Names series on Dec. 10 were in the top 10. More than 4,000 readers were eager to learn about ticket information for the Jeter visit, and the initial announcement in April of Jeter coming to campus drew more than 3,400 news site views.

The May announcement of the hiring of Dave Murray as Hamilton's new head football coach attracted much reader interest. After serving as head football coach at Alfred University since 1998, Murray was named the Mary Jayne Comey and Mac Bristol '43 Head Football Coach.


Readers in July were very interested to learn about Library and Information Technology Services' purchase of a DJI Phantom 2. The small unmanned aerial system (UAS) is mounted with a GoPro HD camera and has already gotten much use recording campus surroundings. Footage has found its way into several college videos.

The February announcement of the death of Patsy Couper, beloved Hamilton friend, benefactor and widow of alumnus Richard W. Couper '44 drew many readers to the news site. President Joan Hinde Stewart noted "It is difficult to imagine College Hill without Patsy's optimism, smiling benevolence and immense good will."

A June update on the activity around the Kennedy Center for Theatre and the Studio Arts as it neared completion interested many readers. At the time more than 120 people were feverishly working to complete the project in time for its fall opening.


As the new academic year began in August, a story and slide show about pre-orientation programs for the Class of 2018 garnered more than 2,500 readers.



Rounding out the top 10, news about Ryan Serhant '06 starring in Bravo's Million Dollar Listing New York appealed to alumni and other members of the Hamilton community.