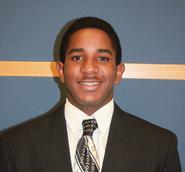 This summer Arthur Williams '16, with the support of the Joseph F. Anderson Fund, is interning at the Renaissance Entrepreneurship Center, a nonprofit that offers workshops, courses, support services and financial networks to individuals looking to begin or expand small businesses. The Center, located in San Francisco, aims to provide these services to individuals who traditionally lack the resources and information necessary to pursue entrepreneurship as a means of financial self-sufficiency.
Williams has a wealth of responsibilities at the Center, including assisting with marketing and outreach, writing up case studies and success stories, and engaging in discussion with entrepreneurs to identify their business needs. Williams hopes this internship will teach him more about the nonprofit industry and give him hands-on marketing experience.
Williams, a member of the Hamilton Continental Lending Group (also known as the Hamilton Microfinance Club), noted the sense of fulfillment that his work with the Lending Group has afforded him.
Furthermore, as Williams stated, "the Hamilton Continental Lending Group and the Renaissance Entrepreneurship Center have similar goals — our group at Hamilton aims to raise money to provide small loans to entrepreneurs in the greater Mohawk Valley area (mainly Utica) so that they can start, sustain or grow their businesses." Williams' internship this summer has allowed him to further pursue this interest in entrepreneurial support.
Williams is especially interested in looking into the current state of this entrepreneurial support industry and the potential for its advancement in Jamaica. Williams, a Jamaican citizen, believes that further developing this industry in Jamaica could be quite beneficial for the country.
As he noted, "There are a lot of people in Jamaica who have not been given the know-how to get a business going. I think having this kind of business and entrepreneurship training in Jamaica would really help these people start sustainable businesses, which in turn could boost our economy."
Though Williams is unsure what he would like to do after he graduates, he has strongly considered the idea of returning to Jamaica to help expand the entrepreneurial support opportunities available to the nation's citizens.
Arthur Williams '16 is a graduate of Campion College in Kingston, Jamaica.