Williams Publishes Conservation Column
---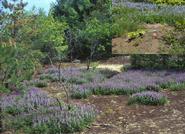 Ernest Williams, the Christian A. Johnson Excellence in Teaching Professor of Biology, published a conservation column titled "Managing Habitat for Lupines and Rare Butterflies" in the magazine of the Lepidopterists' Society.

The column describes the seven years of efforts at habitat management and ecological research that Associate Professor of Biology Bill Pfitsch, numerous summer students, and Williams have been engaged in at the Rome Sand Plains.

Williams said the researchers have been able to enhance the growth of lupines in this unique natural area and increase the amount of habitat for the New York threatened Frosted Elfin butterfly, but are still learning how to promote the natural spread of lupines. Ther successes have required extensive collaboration with other groups, including NYS Department of Environmental Conservation and the Central and Western New York Chapter of the Nature Conservancy.