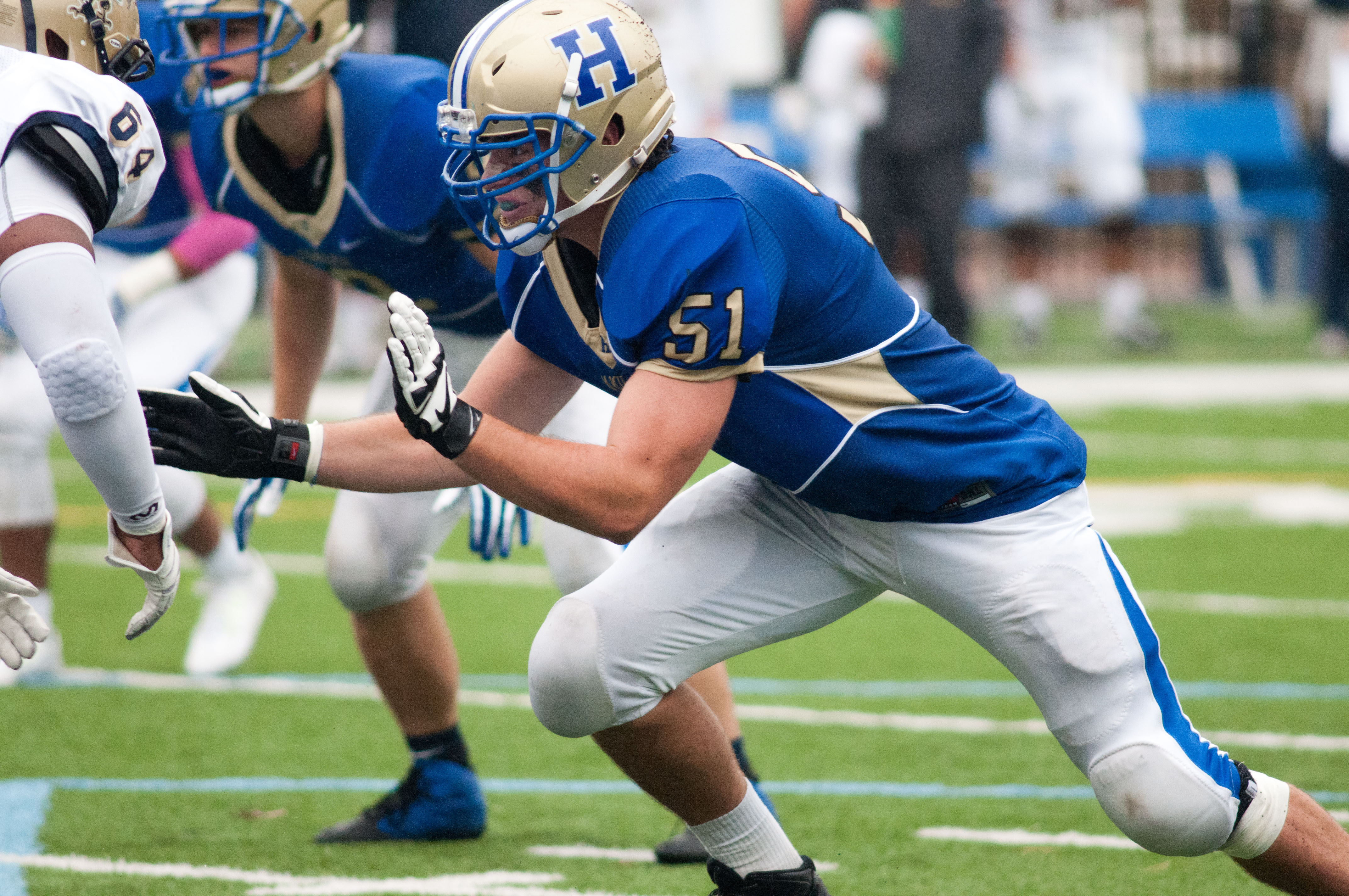 The Hamilton College football team scored a pair of fourth-quarter touchdowns but couldn't complete the comeback against visiting Williams College, losing 21-14 in a NESCAC game at Steuben Field on Saturday afternoon. The Continentals got the ball back twice after pulling to within one score but gained just 17 yards on the two drives.

Box score

The Ephs snapped a four-game losing streak and improved to 2-4. The Continentals are now 0-6.

Amman Weaver '18 scored on a 10-yard run on the first play of the fourth quarter for Hamilton's first score. After the Continental defense held the Ephs to 18 yards on their next drive, Chase Rosenberg '17 capped an 11-play, 60-yard drive with a 1-yard touchdown run with 4:20 remaining.

Williams recovered Hamilton's onside kick but the Continentals forced a three-and-out (one of four Williams had on the day) and took over with 3:15 left on their own 19-yard line. Hamilton gained just seven yards on four plays and the Ephs ran enough time off the clock on their final possession that the Continentals were left with just 19 seconds. Hamilton completed one pass before Alex Brandeis '17 batted away one last desperation heave and sealed the win for Williams.

The Continental defense allowed a season-low 45 rushing yards and gave up 14 first downs while stopping Williams on nine of 10 third-down attempts. The Ephs took advantage of four first-half turnovers by Hamilton and capitalized on a goal-line stand to set up their final touchdown.

Trailing 14-0 midway through the third quarter, Hamilton came up with its first takeaway of the game; linebacker Cade Larabee '16 intercepted a pass from Austin Lommen '16 and returned it to the Williams 7-yard line. Two rushes by LaShawn Ware '17 set Hamilton up on the 1, but the Continentals fumbled the third-down snap and were kept out of the end zone when Williams' James Howe '16 and James O'Grady '16 stopped Rico Gonzalez '16 short of the goal line.

Williams followed the defensive effort by driving 99 yards in just six plays. Lommen, who completed 23 of 34 passes for 234 yards, capped the drive with a 14-yard touchdown pass to Steven Kiesel '15. Lommen followed with a two-point conversion pass to Darrias Sime '16. Lommen passed for 87 yards on the drive – including a 32-yard throw to Kiesel out of his own end zone on the first play and a 33-yard completion to Sime one play later – which was helped by a roughing the passer penalty on a third-down incompletion.

Kiesel caught five passes for a team-leading 63 yards. He was one of nine Ephs to catch a pass.

Williams capitalized on two Hamilton turnovers to score a pair of touchdowns and take a 13-0 lead in a 2:15 span. Justin Harris '17 forced a fumble that was recovered by Mike Davis '17 at the Hamilton 19. Three plays later the Ephs were on the board, scoring on an 18-yard pass from Lommen to Jean Luc Etienne '15. Tom Cabarle '15 intercepted a Hamilton pass on the Continentals' first play of their next drive. Williams took four plays to move 42 yards with Alex Scyocurka '15 gaining the final three.

Cabarle had seven solo tackles among his game-high 10 stops. He added a second interception, picking off a long pass into the end zone on the last play of the half, and recovered a fumble at his own 8-yard line following Hamilton's opening drive.

Josh Helmkamp '15 also made seven solo stops for Williams. He was in on two tackles for loss including a 9-yard sack.

Linebacker John Phelan '16 finished with eight tackles, three tackles for loss and a pass break-up for the Continentals. Larabee contributed eight tackles as well; his first career sack was among his two tackles for loss.

Tackle Michael de Percin '15, who matched a career-high with seven tackles, and end Nick Sobczyk '17 both had a hand in four tackles for loss. They rank third and sixth, respectively, in the NESCAC.

Ware led all rushers with a career-best 115 yards. He was also Hamilton's leading receiver, posting personal-high totals of six receptions for 40 yards. Pat Donadio '15 caught four passes. Weaver, who ran for 31 yards, has scored a team-leading three touchdowns on just 11 carries. The Continentals outrushed the Ephs by 149 yards, running for a season-high 195.

Williams' leading rusher was Etienne, who gained 39 yards on seven carries. He also caught four passes.

Patrick Donahoe '16 punted five times, averaging a career-best 41.0 yards per kick. Zach Altneu '18 added extra points after both Hamilton touchdowns and has yet to miss a kick this fall.

Hamilton closes out its home season on Saturday, Nov. 1, hosting Middlebury College in the 35th annual Old Rocking Chair Classic at 12:30 p.m. Williams hosts Wesleyan on Saturday.