Winter Oratorio Concert is Nov. 30
---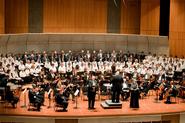 The Hamilton College and Community Oratorio Society will present its winter concert on Tuesday, Nov. 30, at 8 p.m. in Wellin Hall, Schambach Center for the Performing Arts.
Directed by G. Roberts Kolb, the program celebrates the 200th anniversary of Robert Schumann's birth. Featured on the program will be Schumann's Missa scara, Nachtlied, and Scenes From Goethe's Faust. The soloists for this concert are Lauralyn Kolb, soprano; Jennifer Kay, mezzo-soprano; David Parks, tenor; and David Neal, bass.
Soprano Lauralyn Kolb holds degrees from Occidental College and Smith College. She has appeared throughout the U.S. as a recitalist, oratorio and opera singer, appearing as a soloist and performing with orchestras and chamber ensembles. Kolb has taught voice at Hamilton College for more than 25 years.
A member of the Ithaca College faculty since 2005, mezzo-soprano Jennifer Kay holds master's and doctoral degrees in voice performance from Boston University and a bachelor's degree from Ithaca College. Kay sings regularly with the Rochester-based early music ensemble, Publick Musick. Shehas been a featured soloist at the Rochester Bach Festival, Oneida Civic Chorale and Colgate University. Two of her recent chamber recital performances have aired on WCNY radio.
David Parks, tenor, has been a full-time voice teacher on the college level since 1983. During this time he has also been an active performer in opera, oratorio and recital in repertoire ranging from the Baroque to the 21st century, with performances in the U.S., Ireland, Europe, Eastern Europe and South Africa.
Bass-baritone David Neal is chair of the Performing Arts Department at SUNY Cortland. He has appeared with local and regional opera companies such as Lake George Opera, Syracuse Opera and the Baltimore Opera. Neal commissioned Lowell Liebermann's Six Songs on Poems By Robert Frost: Stopping By Woods on a Snowy Evening and Robert Paterson's Winter Songs, and gave their world premieres in April 2008. He has also been a frequent featured singer in Opera Cowpokes, a unique crossover blend of opera and western songs created by baritone Steven Stull.
Tickets for this event are $8 for adults, $6 for senior citizens and free for Hamilton students. Group tickets are available. For tickets or information call the box office at 859-4331 or visit www.hamiltonpa.org. Wellin Hall is also on Facebook.