Women's basketball blows out Morrisville State for third straight win
---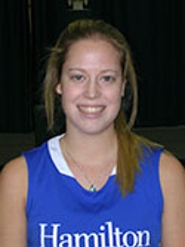 Madie Harlem '13 posted 20 points and seven rebounds as Hamilton College breezed to a 62-29 win over Morrisville State College in a non-conference game at Hamilton's Margaret Bundy Scott Field House on Dec. 2.

Hamilton (3-3 overall), which is on a three game win streak, has won all five meetings between the two schools. The Continentals shot 41.5 percent (27-65) compared to just 31 percent (13-42) for the Mustangs. Hamilton scored 33 points off 35 Morrisville State turnovers.

Harlem posted a game-high three steals and added three assists. She has averaged 18.7 points during the win streak. Samantha Graber '16 contributed 12 points and three helpers, and Kim Goidell '13 led everyone with four assists.

Courtney Coley '16 led the Mustangs with five points and pulled down six rebounds. Nijee' Scott '14 came off the bench to grab a team-high seven rebounds and block two shots.

Morrisville State (0-6) took its only lead of the afternoon at 2-0 on a jumper by Courtney Purcell '16. Harlem answered with two baskets that started a 13-2 run. Graber scored five points during the spurt, Eliza Howe '13 added a layup and Harlem scored another bucket.

A jumper by Coley and a free throw by Purcell closed the gap to 15-7, but the Continentals scored seven straight for a 22-7 lead with 5:53 remaining in the half. Morrisville responded with a 6-0 run to cut its deficit back to single digits at 22-13.

Hamilton closed out the first half with 10 of the last 12 points and led 32-15 at the break. Harlem began the run with a layup and ended it with a jump shot. Graber and Dani Feigin '14 drained trifectas in between.

The Continentals picked up right where they left off with an 8-0 run to start the second half. Harlem scored the first four points, Howe made a free throw and Feigin converted a three-point play.

With the home team leading 43-22, Hamilton went on a 17-5 run to pull away for its largest lead at 60-27 with 1:14 remaining. Serena Ward '16 began the run with a jumper, followed by four points each by Carly Gruenberg '16 and Harlem.

Corinne Hom '16 made a floater in the lane and Charlotte Beers '16 nailed two jump shots for her first collegiate points. Shea Patrick '16 capped the run with a free throw, her first career point. The teams traded field goals in the final minute to round out the scoring.

Hamilton hosts Alfred University for a non-conference game on Saturday, Dec. 8. Morrisville State continues its road swing at Keuka College on Wednesday, Dec. 5.