Women's basketball rallies in 2nd half to top Buffalo State
---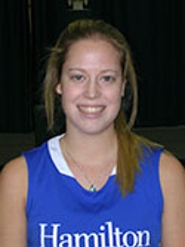 Madie Harlem '13 poured in a season-high 25 points and Eliza Howe '13 dropped in 22 as Hamilton College rallied in the second half for a 78-64 non-conference victory over Buffalo State College at Hamilton's Margaret Bundy Scott Field House on Dec. 15.

The Continentals (5-4 overall) have won five of their last six games. Harlem and Howe combined to score 35 points in the second half to lead the comeback. It was the first time Hamilton had two players score 20 or more points in a game since Feb. 13, 2007, against William Smith College. This game marked the first-ever meeting between the programs.

Harlem stuffed the stat sheet with six rebounds, four assists, three steals and two blocks. Howe pulled down eight boards and played all 40 minutes. Dani Feigin '14 tied a season high with 13 points and dished out four assists. Feigin was 3 of 5 from beyond the arc.

Samantha Graber '16 reached double figures with 10 points and was a perfect 6-for-6 at the free-throw line. Kim Goidell '13 grabbed a season-high 10 rebounds.

Bianca Smiley '14 led the Bengals with 19 points and added eight rebounds. Ashley Wallace '15 recorded a double-double with 10 points and 11 boards. Mariah Norris '16 tallied 12 points and Shay Jackson '14 contributed nine rebounds and two blocked shots off the bench. Kelly Kell '14 chipped in nine points and four assists.

Buffalo State (3-5) recorded the first big run early in the first half. Leading 12-11, the Bengals went on a 15-4 spurt for a 27-15 lead as Smiley scored six points. The Continentals answered by scoring 12 of the next 16 points and cut their deficit to 31-27. Feigin knocked down a pair of 3-pointers and Graber scored four points during the run.

Both teams then scored five straight points before Wallace banked in a shot with four seconds left to give the Bengals a 38-32 lead at the break. Smiley scored 13 points and Buffalo State outrebounded the Continentals by seven in the first half.

Norris opened the second half with a basket, but Hamilton used a 9-2 run to pull within 42-41. A 3-pointer by Kell kept the Bengals in front 54-49. Howe scored seven straight to give Hamilton its first lead since 9-8 early in the first half. On the next possession, Wallace made a layup to tie the score, then stole the ball and hit a jumper to put the Bengals back up 58-56 with 8:45 left.

Feigin responded with her third trifecta of the afternoon that gave Hamilton the lead for good at 59-58 with 8:18 to go, and sparked a 14-3 run. During the spurt, Howe scored six and Harlem tacked on five, and the Continentals held a 70-61 advantage with 2:46 left. Hamilton went a perfect 8-for-8 at the charity stripe down the stretch and made 17 of 18 at the line in the final 20 minutes.

Hamilton shot 48.1 percent (13-27) in the second half while Buffalo State shot just 28.9 percent (11-38). The Continentals made more free throws (26) than the Bengals attempted (17) for the entire game. Buffalo State grabbed 18 offensive rebounds and finished with a 41-35 advantage on the boards.

Hamilton breaks for the holidays and opens NESCAC play on Friday, Jan. 4, at Bowdoin College. Buffalo State heads home to host Rochester Institute of Technology on Monday, Dec. 17.