Women's cross country places 12th in NCAA regional championship
---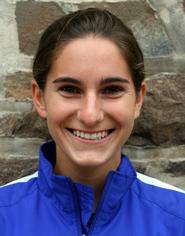 Hamilton College finished 12th out of 39 teams at the 2012 NCAA Division III Atlantic Regional Championships held at Genesee Valley Park in Rochester, N.Y., on Nov. 10.

Full Results

The Continentals were paced by Sarah Ohanesian '14 and Lainie Smith '16, who earned spots on the all-region team by finishing in the top 35. Ohanesian sprinted to 17th place out of 277 runners on the 6-kilometer course in a time of 22 minutes, 32.9 seconds. Ohanesian and the rest of the team will find out if she made the NCAA championships as an individual on Sunday, Nov. 11, around noon.

Smith finished fifth among first-year athletes and 34th overall with a time of 23:00.2. Allie Gurney '14 finished at 23:24.4, which was good for 53rd place. Emily Banzer '15 enjoyed a career-best time of 24:18.6 in 116th place and Hallie Loft '15 rounded out the scoring for Hamilton in 121st place with a time of 24:23.8.

Amy Cymerman '14 of nationally ranked No. 7 St Lawrence University won the individual title by more than 10 seconds in a time of 21:37.5. St. Lawrence captured the team title as well with 49 points. No. 12 SUNY Geneseo finished second with 135 points and No. 14 New York University rounded out the top three with 154 points. Hamilton finished with 331 points.

Additional nationally ranked teams that competed in this event included No. 26 Rowan University (fourth), No. 32 SUNY Plattsburgh (tied for seventh) and No. 35 University of Rochester (tied for seventh).