Women's cross country places 2nd in short course invite
---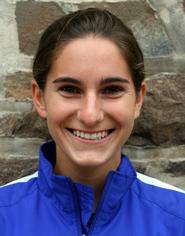 Hamilton College placed second of three teams in the 2012 Hamilton Short Course Cross Country Invitational on Sept. 8.

Results

Sarah Ohanesian '14 led the Continentals in third place with a time of 15 minutes, 21.1 seconds on the 4-kilometer course. Hannah Lyons '14 was right behind in fourth place with a time of 15:31.1.

Lainie Smith '16 and Hallie Loft '15 also placed in the top 10 for the Continentals. Smith's time of 15:40.4 was good enough for sixth place, and Loft finished ninth with a time of 15:52.6.

Allie Gurney '14 rounded out Hamilton's top five in 12th place with a time of 16:00.5. Rachel Cackett '13 finished 14th as she crossed the line in a time of 16:08.

SUNY Cortland won the team title with 31 points. The Continentals were a close second with 34 points and Division II Le Moyne College finished third with 65. Emily Cotey of Cortland captured the individual crown with a time of 15:04.2.

Hamilton competes in the Saratoga Invitational on Saturday, Sept. 15.