Women's cross country places 9th at NESCAC Championship
---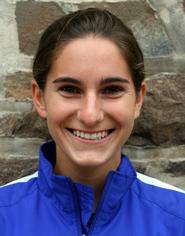 Hamilton College finished in ninth place out of 11 teams at the 2012 NESCAC Championships held at Bowdoin College in Brunswick, Maine, on Oct. 27.

Full Results

Sarah Ohanesian '14 led the charge for the Continentals. Ohanesian finished in 23rd place out of 127 runners on the 6-kilometer course with a personal-best time of 22 minutes, 28.57 seconds.

All Hamilton point scorers set personal-best times at Bowdoin. Lainie Smith '16 was the next Hamilton runner to cross the finish line in 42nd place with a time of 22:54.84. Allie Gurney '14 finished 51st with a time of 23:08.11, and Hannah Lyons '14 clocked in at 23:24.50 in 59th place. Krystina Choinski '15 rounded out the scoring for the Continentals in 81st place with a time of 23:56.29.

Amherst College's Keri Lambert won the individual title by more than 47 seconds with a course-record time of 20:33.45. The top six finishers all bested the previous course record.

Nationally ranked No. 3 Williams College cruised to the team title with 45 points. No. 5 Middlebury College took second with 71 points. No. 21 Amherst (107), No. 17 Tufts University (138) and No. 28 Bates College (138) rounded out the top five. Hamilton finished with 215 points.

Hamilton competes in the NCAA Division III Atlantic Regional Championships at Genesee Valley Park in Rochester, N.Y., on Saturday, Nov. 10.