Women's ice hockey rally falls short at No. 6 Amherst
---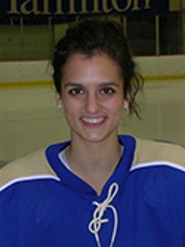 Nationally ranked No. 6 Amherst College received one goal and one assist from four different players, and the Lord Jeffs held on for a 6-5 NESCAC victory against Hamilton College at Amherst's Orr Rink on Nov. 16.

Kaitlyn McInnis '13, Megan Doyen '13, Geneva Lloyd '13 and Emily Folm '15 all tallied one goal and one assist for the Jeffs. Erin Martin '16 and Courtney Baranek '14 added one goal each and Eileen Harris '16 recorded two assists. Tori Salmon '15 tacked on one assist and Kerri Stuart '14 made 22 saves in goal.

Stephanie Lang '14 recorded the first hat trick of her career with a power-play goal in the second period and two goals in the third. Naomi Woolfenden '16 posted a goal and an assist in her first collegiate game. Nikki Haskins '14 netted Hamilton's first score on a short-handed goal and six different players earned one assist. Becca Hazlett '13 made 16 saves.

Amherst took a 6-2 lead 4 minutes, 8 seconds into the third period on McInnis' goal before Hamilton mounted a furious comeback. Lang scored her second and third goals to cut the Amherst lead to two 12:19 into the third. Woolfenden notched her goal with 5:23 remaining to make the score 6-5. The Continentals had a few chances in the final minute, forcing Stuart to make three saves for the Jeffs.

Martin struck first for Amherst, tallying an unassisted goal just 1:32 into the first period. Lloyd extended the lead at 9:12, with Flom and Salmon earning assists on the goal. Haskins put Hamilton on the board at 11:46 off a feed from Abby Runyon '13. However, Baranek responded 26 seconds later to close out the scoring in the first period with the Jeffs on top, 3-1.

Lang scored her first goal on assists from Woolfenden and Katie Zimmerman '13 just 16 seconds into the second period to cut Amherst's lead to one. Doyen scored the only other goal in the second period at the 9:29 mark with McInnis and Harris getting the assists. The Jeffs led 4-2 through two periods.

Amherst tacked on two goals early in the third period. Lloyd set up Flom at the 2:27 mark and McInnis scored her goal at 4:08.

Lang added her second and third goals 5:42 and 12:19 into the third, respectively. Gigi Fraser '14, Hannah Bartlett '16 and Jill Tokarczyk '14 were all credited with assists. It was the first Hamilton hat trick since Zimmerman notched three goals in a 7-0 win over SUNY Cortland on Jan. 7, 2012.

After Woolfenden cut the Amherst lead to one, Hamilton went on a power play for the final 89 seconds when Barrett McBride '14 was called for hooking. The Continentals had a two-skater advantage after they pulled Hazlett for the final 1:15. Fraser got three shots off in the final minute, but Stuart turned them all away and Woolfenden's final shot sailed wide.

Hamilton held a 27-22 shot advantage. The Continentals converted 1 of 5 power-play opportunities while Amherst went 0-for-3.

The Continentals and Jeffs meet again -- this time at Hamilton -- on Saturday, Nov. 17.