Women's indoor track & field competes at RIT Invitational
---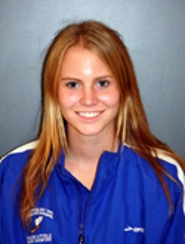 Hamilton College's Krystina Choinski '15 qualified for the 2013 Eastern College Athletic Conference (ECAC) Division III Championships in the 1,000-meter run at the Rochester Institute of Technology's non-team scoring Orange and Brown Invitational at Gordon Field House on Feb. 15.

RESULTS

Choinski finished fourth in the 1,000 with a time of 3:07.79. The ECAC championships will be held at New York City's New Balance Armory Track & Field Center on March 1 and 2.

Jessye McGarry '16 completed the 800-meter run in a season-best time of 2:28.37 and finished ninth. Choinski and McGarry teamed up with Catherine Oglevee '15 and Hallie Loft '15 and placed third in the 4x800-meter relay with a time of 10:13.97.

In the distance events, Hannah Kloeckner '14 earned fifth place in the 5,000-meter run with a time of 19:32.34, and Hannah Lyons '14 took 10th place in the 3,000-meter run in 11:12.34. Agne Jakubauskaite '13 tied for second place in the high jump with a height of 1.53 meters (5 feet, 0.25 inches).

Nationally ranked No. 15 Buffalo State College also competed in the meet. Hamilton heads to Ithaca College for the New York State Collegiate Track Conference (NYSCTC) championships on Friday and Saturday, Feb. 22 and 23.