Women's indoor track & field competes in Hamilton Invitational
---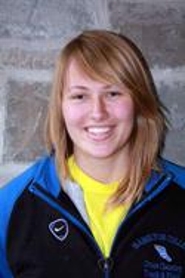 Hamilton College's Hannah Kloeckner '14 and Agne Jakubauskaite '13 finished first in one event apiece in the non-team scoring Hamilton Invitational at Margaret Bundy Scott Field House on Jan. 26.

RESULTS

Kloeckner raced to first place in the 3,000-meter run with a time of 11 minutes, 17.50 seconds. Jakubauskaite posted a victory in the high jump with a height of 1.53 meters (5 feet, 0.25 inches).

Jessye McGarry '16 and Krystina Choinski '15 captured third place in their respective middle-distance events. McGarry completed the 800-meter run in 2:29.76, and Choinski finished the 1,000-meter run in 3:10.63.

The Continentals placed a pair of athletes in the top five of the long jump. Katie Steates '15 took third place with a mark of 4.53 meters (14 feet, 10.5 inches) and Sky Aulita '15 grabbed fifth place at 4.51 meters (14 feet, 9.75 inches). Hannah Lyons '14 was sixth in the 5,000-meter run in 19:40.56.

Hamilton heads to the SUNY Brockport Invitational on Saturday, Feb. 2.