Women's soccer hands SUNY Cortland first loss
---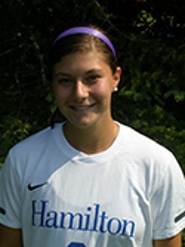 Rebecca Rees '16 scored two goals in the first half to pace Hamilton College to a 5-3 win over SUNY Cortland in a non-conference game at Hamilton's Love Field on Sept. 12.

Halle Becker '15 added a goal and two assists for the Continentals, who handed the Red Dragons (2-1-2 overall) their first loss of the season. Hannah Withiam '16 tallied her third goal in three games and Victoria Freeman '16 scored her first collegiate goal. Liza Gergenti '14 made four saves to pick up her third win of the season.

Emma Whittle '15 led Cortland with two goals and Kelly Knight '14 added two assists. Amanda Margolis '15 scored the other goal and Abby Williams '16 tallied an assist. Taylor Hudson '15 stopped four shots.

Rees' first goal came in the 22nd minute when she collected a pass from Becker 20 yards away from the goal and fired a left-footed shot into the back of the net. After Whittle knotted the game at 1-1, Rees put the Continentals back on top with her second goal off a free kick in the 43rd minute. Hamilton led 2-1 at the break.

Whittle answered back for the Red Dragons with her second goal less than seven minutes into the second half. Margolis' corner kick found Williams who headed the ball towards the goal, but her shot was knocked away at the line by a Hamilton defender. Whittle collected the rebound and scored to tie the game at 2-2.

Freeman gave the Continentals (3-0-0) the lead for good in the 69th minute when she corralled a loose ball inside the box and crossed it by Hudson into the lower left corner.

Withitam's goal came with 13 minutes left when she redirected Becker's corner kick into the back of the net to give the Continentals a 4-2 lead. Becker added a goal with 2:58 remaining when she took two dribbles to the left towards the middle of the field and buried a shot into the right side of the goal.

Margolis added her first goal of the year just 23 seconds later to cut Cortland's deficit to 5-3. The Red Dragons held a slight advantage in shots at 18-17, and corner kicks at 5-3.

Hamilton takes to the road for a pair of NESCAC games at Connecticut College (Sept. 15) and Wesleyan University (Sept. 16). SUNY Cortland will host Farmingdale State on Saturday, Sept. 15.