Women's soccer blanks Colby on Senior Day
---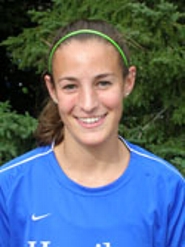 Alex Rimmer '13 and Charlotte Cosgrove '13 scored one goal apiece and Hamilton College shut out Colby College 2-0 in a NESCAC game at Hamilton's Love Field on Oct. 14.

The Continentals (8-3-1 overall, 5-3-1 NESCAC) picked up their first victory in four tries against the Mules. Rimmer, Cosgrove and Chelsea Haight '13 were recognized on Senior Day.

Rimmer leads the team with six goals and moved into sole possession of second place on the program's career list with 35. Christina Robeson '97 scored 36 from 1993 to 1996. Cosgrove tallied her first goal of the year and fourth of her career.

Lauren Brady '14 and Hannah Withiam '16 contributed one assist apiece for the Continentals. Liza Gergenti '14 made four saves for her fourth shutout this year and the 13th of her career.

Emily Brook '15 made 12 stops for Colby. Eleven different players recorded a shot for the Mules (7-5-0, 3-5).

Hamilton opened the scoring with 1:15 remaining in the first half on Brady's corner kick. She sent the kick from the right side into the box to Rimmer, who headed the ball into the back of the net.

The Continentals earned the corner kick after two shots inside the box by Emi Birch '14. Brook saved both and sent the second shot over the end line. Hamilton led 1-0 at the break.

Cosgrove extended the lead to 2-0 in the 52nd minute. Withiam controlled the ball inside the box and fed Cosgrove in the middle. Cosgrove took one dribble and fired a shot by Brook.

Rebecca Rees '16 nearly added another goal for Hamilton just 34 seconds later, but her free kick from 25 yards out hit the cross bar. The Continentals enjoyed a 21-12 shot advantage, and Colby held a 5-4 edge in corner kicks.

Hamilton travels to Tufts University for its final NESCAC game of 2012 on Saturday, Oct. 20. Colby hosts conference foe Williams College on Saturday.