Women's soccer tops SUNY Oneonta
---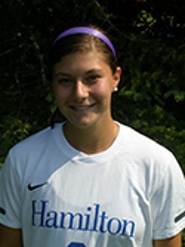 Hamilton College received one goal from three different players and Rebecca Rees '16 had two assists as the Continentals defeated SUNY Oneonta 3-1 in a non-conference game at Hamilton's Love Field on Oct. 10.

Hamilton ended Oneonta's win streak at five games. It was the first time the Continentals topped the Red Dragons since 2007 when they won 3-2 in overtime.

Hannah Withiam '16, Victoria Freeman '16 and Alex Rimmer '13 scored in the first half to give the Continentals a 3-0 lead at the break. Withiam and Rimmer rank fourth in the NESCAC with five goals apiece. Liza Gergenti '14 made six saves.

With her goal late in the first half, Alex Rimmer moved in to a tie for second place on Hamilton's career goal leaders with 34.

Kayla Ceschini '16 scored an unassisted goal for the Red Dragons. Kelley Murphy '16 started in goal and made one stop. Rori Stark '16 relieved Murphy for the second half and made three saves.

Hamilton (7-2-1 overall) got on the board in the 18th minute. Rees' free kick from the left side found Withiam on the far post for a header and a 1-0 lead.

Freeman extended the lead on her header in the 31st minute. Rees started the play again, this time with a corner kick from the right side. She lofted the ball to the far post and Freeman headed it in for the score.

Rimmer added her goal with 9:24 remaining in the first half when Hamilton possessed the ball after a Red Dragon goal kick. Rimmer took two dribbles and fired a shot from just outside the box on the left side that slipped through Murphy's hands.

The Continentals had a chance to add another goal in the 68th minute. Rimmer stole a pass and had only Stark to beat, but she made the kick save and a rebound shot by Halle Becker '15 went wide left.

Oneonta (9-4-1) avoided the shutout with 2:37 remaining. Ceschini intercepted Hamilton's goal kick and crossed the ball in front of Gergenti into the right side of the net. The Red Dragons held a 20-16 shot advantage, and corner kicks were even at three apiece.

The Continentals host NESCAC foe Bowdoin College on Saturday, Oct. 13. Oneonta returns home to take on SUNY New Paltz on Saturday.