Women's soccer tops Wesleyan with overtime goal
---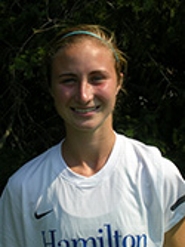 Hannah Withiam '16 scored the game-winning golden goal with 24 seconds remaining in the first sudden-victory overtime period and lifted undefeated Hamilton College to a 1-0 win against Wesleyan University in a NESCAC game at Wesleyan's Jackson Field on Sept. 16.

Hamilton (5-0-0 overall, 3-0 NESCAC) opened the season with five straight victories for the first time since 2008. Withiam has scored two overtime goals and her four tallies lead the conference. Liza Gergenti '14 made four saves and picked up her 10th career shutout. Alex Rimmer '13 was credited with an assist.

Jessica Tollman stopped six shots for the Cardinals (1-2-1, 1-2-0). Hamilton outshot the Cardinals 16-9, including a 3-1 advantage in overtime. Both teams took seven corner kicks.

The game-winning goal came after the second of two Hamilton corner kicks. Wesleyan had averted disaster after the first corner when defender Kaylin Berger '13 stopped a would-be game-winning shot aimed just inside the left post. The ball bounced off her body, went out of bounds and brought about the second corner kick.

Rebecca Rees '16 took the corner and placed it right in front of the goal. The ball caromed between several players for both teams, was touched by Rimmer, and Withiam nudged the ball into the net with her body.

Gergenti made a game-saving diving stop on a shot by Isabel Clements '16 that was destined for the right side of the goal with 28 minutes left in the second half.

The Continentals return to action on Saturday, Sept. 22, when they travel to NESCAC opponent Amherst College.