Women's squash boasts three wins over weekend
---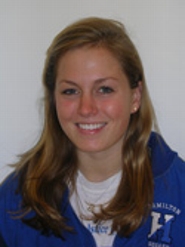 Hamilton College recorded three wins out of four matches at Hamilton's Little Squash Center on Jan. 26 and 27.

The Continentals (6-7 overall) are No. 19 in the latest College Squash Association rankings. Hamilton opened its weekend with a 6-3 win against No. 20 Mount Holyoke College and a 9-0 win over No. 37 University of Rochester on Saturday. The Continentals split their Sunday matches with a 7-2 loss to No. 14 Franklin & Marshall College and a 9-0 victory against No. 34 Northeastern University.

Hillary Kolodner '14 led Hamilton with a perfect 3-0 record. Kolodner won in three straight games at the seventh position against Mount Holyoke and needed four games to best her Franklin & Marshall opponent at No. 7. Kolodner earned a victory in three games at the fourth position against Rochester.

Claire Corroon '13, Elizabeth Morris '15, Isabelle Weisman '15 and Kelsey Bogle '14 all compiled two wins out of three matches. Corroon earned a three-game victory at the first position against Rochester and tallied a five-game win at the third position against Franklin & Marshall. She won the last game, 11-9. Corroon sits in sixth place on the program's all-time list with 40 career wins.

Against Mount Holyoke, Morris topped her opponent in five games at the fourth position, and Weisman defeated her opponent in four games at the fifth position. Both cruised to three-game wins against Rochester with Morris at the second position and Weisman third. Bogle polished off her Mount Holyoke and Rochester opponents in three games at the eighth and fifth positions, respectively.

Laura Russell '14, Annabel Prouty '13 and Alyssa Kasanoff '13 picked up two victories in three straight games against Northeastern and Rochester. Russell competed at the third and sixth positions, Prouty at the fourth and seventh positions, and Kasanoff at the fifth and eighth positions.

Amanda Thorman '13, Hilary Gray '15, Hannah Coffin '14, Alexis Lee '13 and Ann Pooley '16 added one win each. Thorman and Gray won in three games over their Northeastern opponents at the first and second positions, respectively. Coffin and Lee cruised to three-game wins at the sixth and ninth positions against their Mount Holyoke opponents. Pooley claimed her first collegiate victory in three games at the ninth position against Rochester.

Hamilton hosts St. Lawrence University for senior night on Wednesday, Jan. 30, at 6 p.m.