Women's tennis shuts out SUNY Cortland
---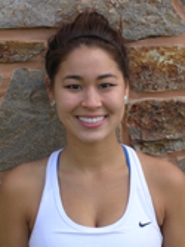 Hamilton College captured five of six singles matches in straight sets and the Continentals posted a 9-0 victory over SUNY Cortland in a non-conference dual match at Hamilton's Gray Tennis Courts on Sept. 26.

The match was the 2012-13 home opener for the Continentals, who improved to 1-1 on the season. Cortland (2-5 overall) lost its third straight match.

Alex Arenson '13 and Mira Khanna '15 won 8-6 at first flight doubles. Bella Schoning '16 and Liz Detwiler '15 prevailed 8-6 at second flight, and Melissa Mann '13 and Meg Lee '14 won by the same score at third flight.

Arenson needed a super-tiebreaker to overcome a first set deficit at first flight singles, 3-6, 6-4, 10-5. Khanna won 6-4, 6-2 at second flight, and Schoning improved to 3-1 with a 6-2, 6-0 win at third flight.

Aislinn Shea '13 didn't lose a game at fourth flight, while Rachel Friedman '15 dropped just two games at fifth flight. Mann completed the sweep with a 6-2, 6-1 victory at sixth flight.

Hamilton returns to the courts on Thursday, Oct. 4, when the Continentals travel to Union College for another non-conference matchup.