Women's basketball downed by No. 13 Williams
---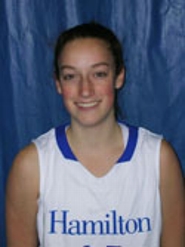 Jill Greenberg '12 scored 16 points, handed out 10 assists and made four steals to lead nationally ranked No. 13 Williams College to a 67-48 win against Hamilton College in a non-league women's basketball game at Hamilton's Margaret Bundy Scott Field House on Dec. 11.

Williams (8-0 overall) jumped out to a 14-2 lead in the opening four minutes and never trailed. Hamilton (5-2) pulled within seven points at 19-12 midway through the first half, but didn't get any closer after that. The Ephs led 34-19 at the half, and maintained their double-digit advantage throughout the second half. The Continentals shot 26 percent from the floor during the first 20 minutes.

Williams' Chessie Jackson '11 led all players with 22 points, and added six rebounds, two blocked shots and four steals. Jackson was 4 of 6 from 3-point range, and the team was 43 percent (9-21) from beyond the arc. Taylor Shea '11 chipped in 10 points and seven boards, and Claire Baecher '13 pulled down a team-high nine rebounds to go with four assists.

Eliza Howe '13 and Dani Feigin '14 paced the Hamilton offense with 10 points apiece. Madie Harlem '13 had nine points, nine boards and four steals. Claire Hunsinger '13 was credited with a career-high six blocked shots.

Neither team shot all that well from the field as the Ephs made 38 percent of their field goal attempts, and the Continentals made 37 percent. Williams held a 44-36 advantage in rebounds and had 18 assists on 25 baskets. Hamilton committed 22 turnovers and has 45 in its last two games -- both losses. The Ephs lead the all-time series, 21-12.

The Continentals are off until Jan. 10, when they travel to William Smith College for their Liberty League opener. Williams plays Drew University in the first round of a holiday tournament at Wesley College on Tuesday, Dec. 28.