Women's basketball falls to Union in overtime
---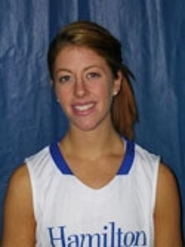 Hamilton College lost to Union College 71-65 after battling through two overtimes in a Liberty League women's basketball game at Hamilton's Scott Field House on Jan. 14.

Hamilton (5-4 overall, 0-2 Liberty) opened the second extra session with a 5-0 run and led 65-60 with 2:48 left. Union (7-3, 2-0) then scored the final 11 points to finally pull out the victory.

Leah Pepe '11 made a 3-pointer, and a layup by Brittney Kenney '14 tied the score at 65-65 with 1:32 remaining. A jumper by Kenney gave Union the lead for good with 46 seconds left. Four free throws by Lindsay Hage '12 in the final 30 seconds clinched things for the Dutchwomen.

The Dutchwomen led 10-3 five minutes into the first half. Hamilton still trailed 12-5 until the Continentals clamped down on defense and went on a 19-4 run. Hamilton's 24-16 lead with four minutes left was its largest of the night. Union closed the half with a 10-3 spurt and trailed 27-26 as the teams went to the locker room.

The second half featured six ties and five lead changes, and neither team led by more than four points. The Dutchwomen led 54-51 after two free throws with 15 seconds left. But the Continentals' Kim Goidell '13 beat the buzzer with a 3-pointer to tie the score at 54-54.

In the first overtime, the Dutchwomen made three free throws for a 57-54 lead. The Continentals pulled ahead on a jumper by Blue Sanders '13 and a 3-pointer by Dani Feigin '14 for a 59-57 advantage with 1:22 remaining. Union moved back in front on a 3-pointer by Pepe with 1:07 left. Madie Harlem '13 made one of two free throws for Hamilton with 42 seconds remaining to tie the score at 60-60 and send the teams to the second OT.

Sanders led Hamilton with 18 points and four assists. Harlem added 15 points and three steals. Eliza Howe '13 chipped in 12 points, 10 rebounds and three steals.

Lauren McCormick '11 led Union with game-highs of 24 points, 14 rebounds and five blocked shots. McCormick went 14-for-20 at the line. Pepe made five 3-pointers and finished with 22 points and five assists. Lauren Hennessey '11 grabbed 12 rebounds.

The Dutchwomen held a 55-42 advantage in rebounds, including 20 on the offensive glass. The Continentals shot 38 percent from the floor, while the Dutchwomen shot 33 percent. Hamilton lost its fourth straight, and Union has won six in a row.

Hamilton plays its third league game against Skidmore College at home on Saturday, Jan. 15.