Women's basketball falls at St. Lawrence
---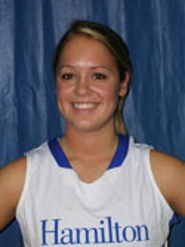 Katie Edgerton '12 scored a game-high 14 points to lead St. Lawrence University to a 55-41 win against Hamilton College in a Liberty League women's basketball game at St. Lawrence's Burkman Gymnasium on Feb. 11.

The Saints (17-4 overall, 8-3 Liberty) remain tied with Union College for first place in the league standings. Hamilton (7-12, 1-10) lost its fourth straight game.

Kelly Legg '14 and Casey Capello '12 joined Edgerton in double figures for St. Lawrence. Legg tallied 11 points and a game-high 14 rebounds, while Capello added 10 points.

The Continentals were led by Eliza Howe '13 with 11 points, followed by Madie Harlem '13 with 10 points and three steals. Lisa Olszewski '11 blocked four shots, and Isabel Pagliaccio '14 grabbed a team-high six rebounds off the bench.

Both teams got off to a slow start as they combined for just eight points in the first seven minutes. Hamilton enjoyed an early 8-2 advantage until Cassie St. Hilaire '14 and Edgerton sparked a 30-4 Saints run. St. Lawrence led 32-12 at the break. The teams combined for 28 turnovers in the first half.

St. Lawrence maintained a double-digit advantage for the entire second half. The Continentals cut their deficit to 11 points at 51-40 on a layup by Howe with under four minutes left, but that was as close as they would get.

Both teams shot 31 percent from the field. The Saints made seven 3-pointers to just two for Hamilton. St. Lawrence pulled down 19 offensive rebounds and held a 46-30 rebounding edge.

Hamilton travels to Clarkson University for another league game on Saturday, Feb. 12.