Women's basketball downed by Vassar
---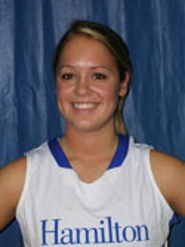 Cydni Matsuoka '14 scored a game-high 21 points to lead Vassar College to a 64-52 win against Hamilton College in a Liberty League women's basketball game at Hamilton's Margaret Bundy Scott Field House on Feb. 18.

Vassar (14-10 overall, 8-5 Liberty) clinched one of the four spots in next weekend's league tournament. The Brewers are alone in fourth place in the league standings with one game remaining. Vassar has won three straight games.

Matsuoka was 5 of 7 from 3-point range as the Brewers shot 45 percent (9-20) as a team from long range. She also handed out five assists. Hannah Senftleber '14 chipped in 17 points, six rebounds and three steals. Brittany Parks '12 added 15 points, six boards and five assists.

Eliza Howe '13 paced the Continentals with 16 points. Madie Harlem '13 was 6 of 10 from the field and finished with 13 points. Lisa Olszewski '11 had eight points, a game-high seven rebounds and two blocked shots. Dani Feigin '14 came off the bench to score eight points.

Hamilton (8-14, 2-11) led 12-7 early, but Vassar roared back with a 10-2 run to take a 17-14 lead midway through the first half. Matsuoka nailed two 3-pointers during the spurt. The Continentals scored the next seven points for a 21-17 advantage with 6:39 left. Feigin drilled a 3-pointer, Olszewski made a jumper and Feigin drove in for a layup to finish the run.

The Brewers ended the first half with a 16-4 run to take a 33-25 lead into the break. A 3-pointer by Parks gave Vassar the lead for good at 22-21 with 4:45 remaining. Hamilton was still within five points at 44-39 after a Howe jumper with 11:25 left. The Brewers then put the game away with an 11-1 run that gave them a 55-40 cushion with 9:38 remaining. Matsuoka, Parks and Carolyn Crampton '11 all made 3-pointers during the game-clinching spurt.

Vassar shot 49 percent from the field, while the Continentals shot 45 percent, including 5 of 10 from beyond the arc. The Brewers defeated Hamilton 76-60 at home on Jan. 22. The Continentals still lead the all-time series, 18-4.

Hamilton hosts league foe Rensselaer for its season finale on Saturday, Feb. 19. Vassar travels to William Smith College to round out the regular season in league play on Saturday as well.