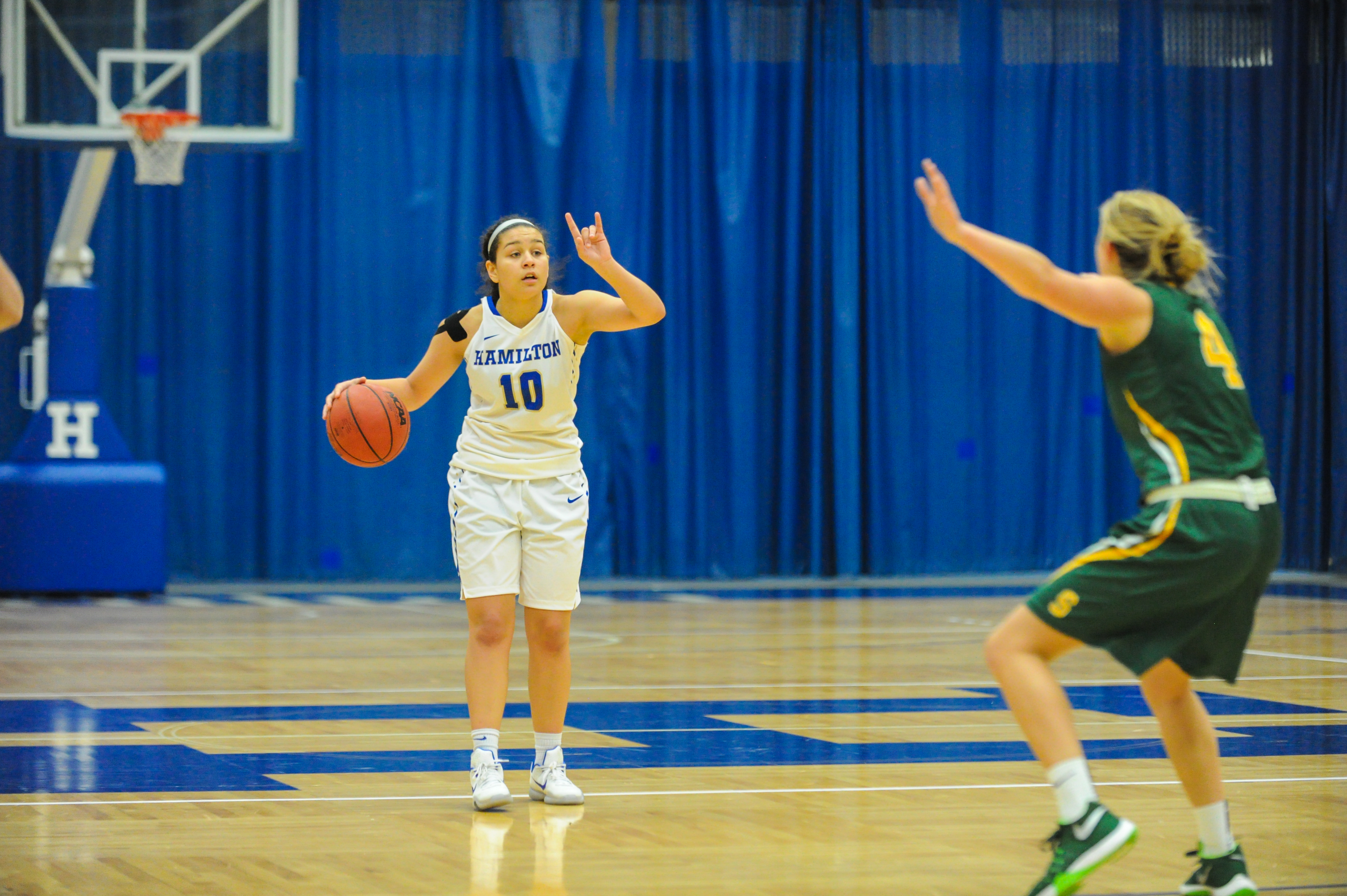 The Hamilton College women's basketball team snapped a three-game losing streak Sunday, topping visiting Albany College of Pharmacy 62-52 in a non-league game at Margaret Bundy Scott Field House. The Continentals never trailed and blocked a season-high 13 shots in improving to 6-11 on the season.

Box score
Hamilton held the visitors to four baskets over the first 20 minutes, racing to an 18-7 advantage after one quarter before taking a 32-16 lead into intermission. Despite outscoring Hamilton in the second half, the Panthers were only able to cut the deficit to single digits once.

Sam Graber '16 led the Continentals with 15 points and nine rebounds. She added four assists and a career-best four blocked shots. Lauren Getman '18 contributed 14 points and seven rebounds and Kendall Rallins '19 dished out a personal-best 10 assists.

Hamilton scored the last six points of the opening period after ACP had pulled to within 12-7, then used a 12-3 run over the first five minutes of the second half to push the lead to 20 points. Claire Hebb '19 connected on a pair of early three-point baskets and Mia Caterisano '19 scored a career-best six points in a two-minute span late in the half, with her last basket giving the Continentals their biggest lead of the game – 30-10 with 4:28 left in the second quarter.

The Panthers (10-3 overall) made 22 free throws, led by Sarah Pacheco (10 for 10 from the line) and Rochelle Whitton (who made eight of her 11 attempts). Whitton led all scorers with 16 points and added four steals. Pacheco, who played just nine minutes, scored 13 of her 15 points in the fourth quarter. Dannie Griffin finished with eight points and a team-leading nine rebounds.

Nine Continentals played at least 10 minutes, including Rylie Mainville '18, who finished with five points, five rebounds and four blocked shots. Getman and Halie Serbent '19 both added a pair of blocks. Serbent was also credited with a season-best four assists.

Hamilton continues non-conference play Tuesday, traveling to Clarkson for a 7 p.m. non-league game.