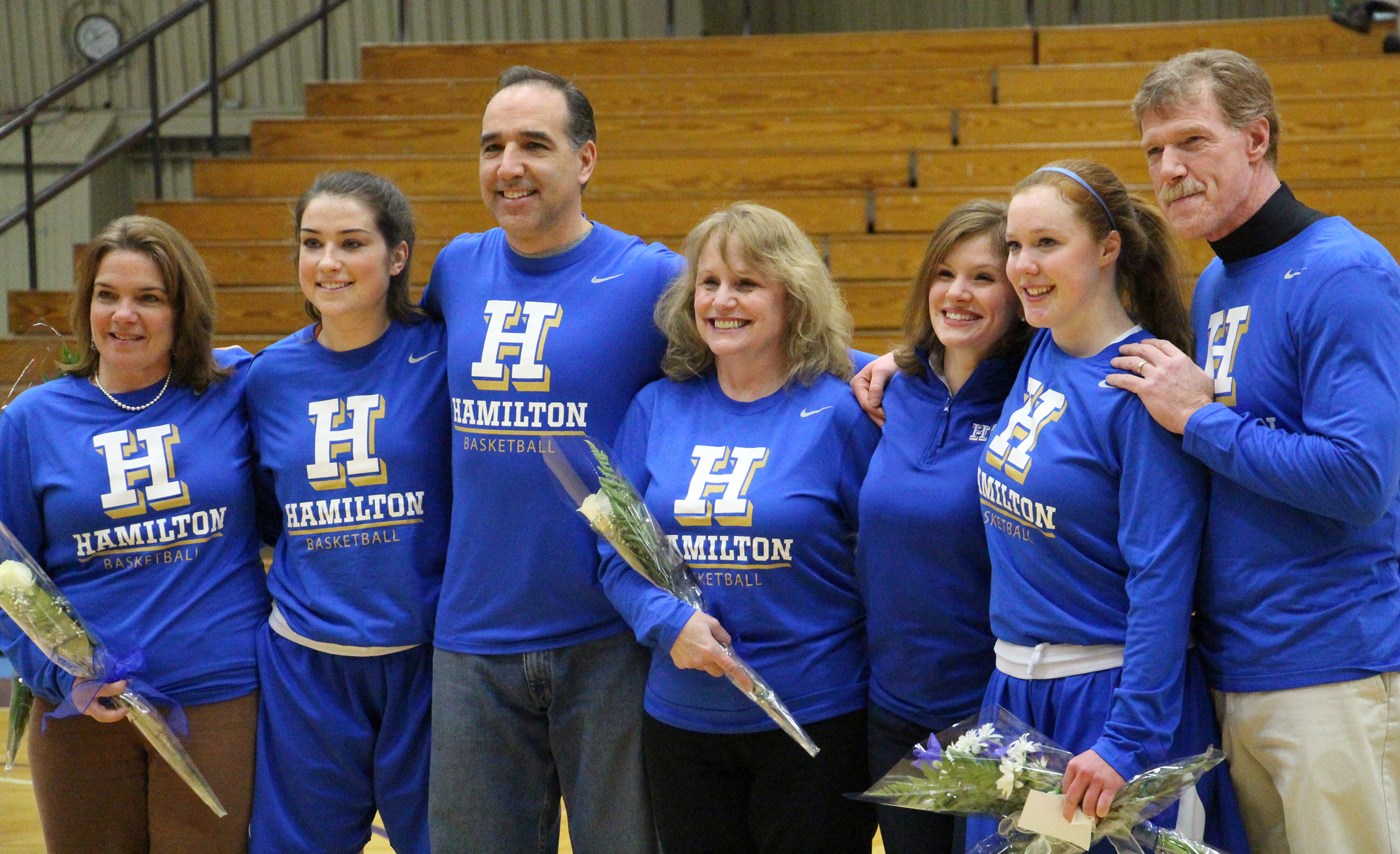 Hamilton College ended the game with a 7-0 run and the Continentals rallied for a 60-54 NESCAC win against the Bates College Bobcats at Hamilton's Margaret Bundy Scott Field House on Saturday afternoon.

Box Score

Allie Coppola '17 gave Bates its last lead at 54-53 on a layup with 3:45 left. After four missed shots by the Continentals (11-10, 2-6 NESCAC) and two turnovers by the Bobcats, Kate Bushell '17 put Hamilton in front for good on a basket in the paint with 1:46 remaining. In the second half alone, there were four ties and six lead changes.

Bates (9-12, 0-8) had ample opportunities to reclaim the lead on their next possession but missed two layups and a free throw. Bushell finally grabbed a defensive rebound with 53 seconds to go after Samantha Srinivasan '18 blocked a shot by the Bobcats' Nina Davenport '18. Sam Graber '16 found Theresa Salud '17 open for a 3-pointer and a 58-54 advantage for the Continentals with 38 seconds left.

Bates missed a shot from beyond the arc and committed a turnover in the final 30 seconds. A steal and two free throws by Adrianna Pulford '15 with 3.3 seconds remaining sealed the win for Hamilton.

The Continentals won their third straight game against the Bobcats, who still lead the all-time series, 6-4. Bates lost its eighth game in a row -- the Bobcats' last win was on Jan. 6 against Lasell.

Graber led Hamilton with 20 points and nine rebounds. She leads the NESCAC in scoring with 18.2 points per game and is ranked third with 9.6 rebounds per game and fourth with 41 steals.

Salud dropped in a career-high 16 points off the bench for the Continentals. She was 4 of 6 from 3-point range and tied a career-best with four assists. Pulford finished with six points, three offensive boards and three steals, and Rachel Fredey '15 handed out three assists on Senior Day for the duo.

Davenport poured in a game-high 21 points for Bates despite picking up her fourth foul midway through the second half. Bernadette Connors '17 scored all 10 of her points in the first half. Coppola ended up with nine points, 14 rebounds and seven assists. She leads the conference with 11.5 rebounds per game.

The score was tied at 8-8 early in the first half but Hamilton took a 14-8 advantage on 3-pointers by Graber and Salud and led the rest of the half. The six-point margin was the largest lead of the half by either team. The Continentals took a 31-30 edge into the break. Graber finished the half with 14 points.

The Bobcats used an 8-0 run early in the second half to take its largest lead of the afternoon at 41-36 with 15:40 left. Bates led by five points again at 46-41 after a three-point play by Davenport with 11:56 remaining.

For the game, Hamilton shot 42.3 percent and the Bobcats shot 35.3 percent. The Continentals held a 34-31 edge on the glass.

Hamilton travels to Wesleyan University for another NESCAC game on Friday, Feb. 13. Bates is on the road at Saint Joseph's (Maine) in non-conference action on Tuesday, Feb. 10.