Women's basketball blows by Bates in 2nd half
---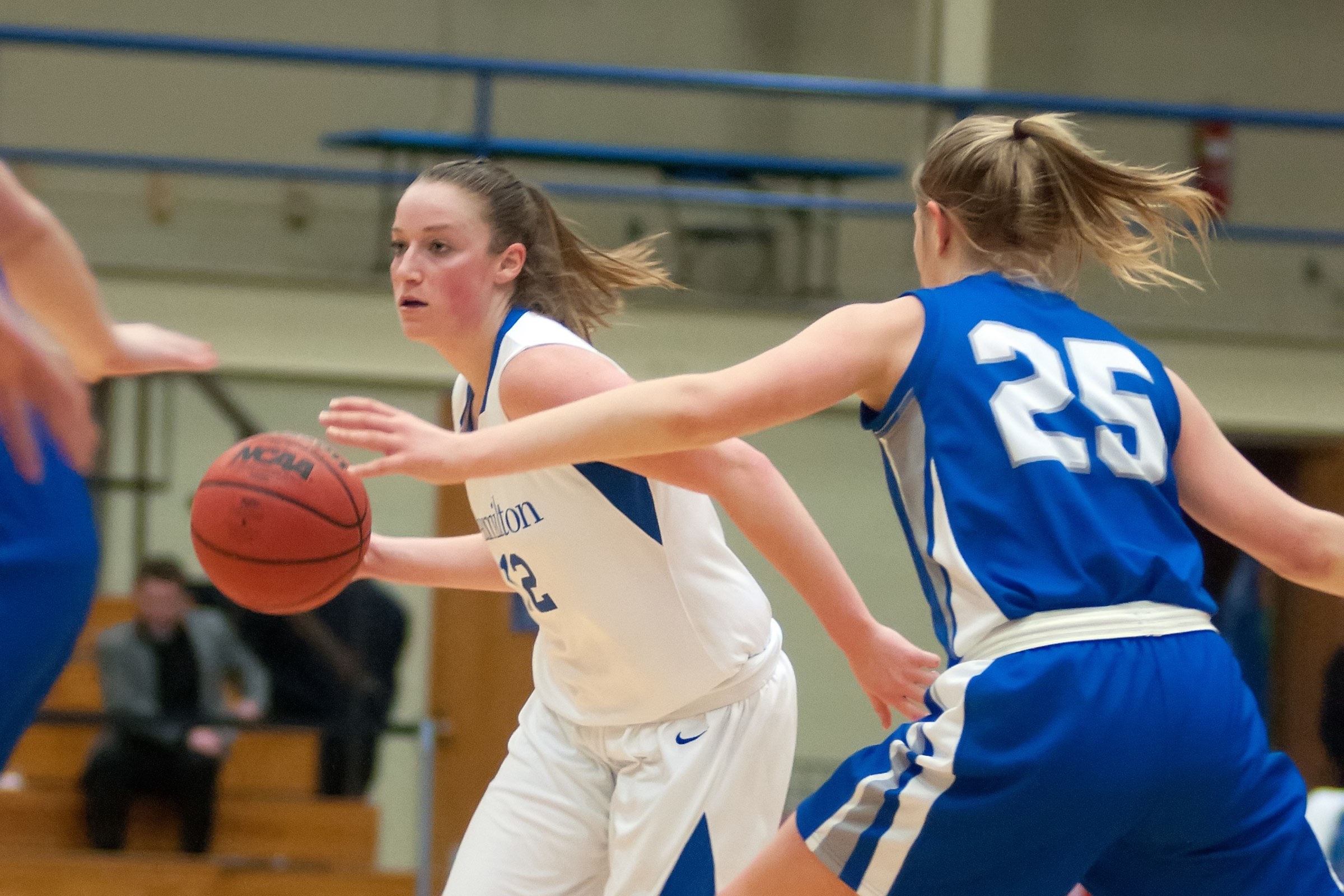 Hamilton College's Dani Feigin '14 poured in 25 points and the Continentals breezed to an 82-62 NESCAC win against the Bates College Bobcats at Hamilton's Margaret Bundy Scott Field House on Feb. 8.

Box Score

Feigin, playing in the final home game of her collegiate career, tied a career-high with six assists and made 5 of 8 shots from beyond the arc. She leads the NESCAC with 55 3-pointers this season and was ranked 29th in NCAA Division III in 3-point field goals per game heading into the weekend. Feigin moved into third place on the program's all-time list with 132 shots from long range.

Samantha Graber '16 posted her sixth double-double this season for the Continentals with 16 points and a career high-tying 13 rebounds. Graber also handed out four assists. Caroline Barrett '17 scored 12 points and was credited with a season-best six assists, Serena Ward '16 made four 3-pointers and finished with 14 points off the bench, Olivia Pimm '14 pulled down 10 boards and Adrianna Pulford '15 dished out a career-high four assists. Pimm, who played the final home game of her Hamilton career, is tied for second in the NESCAC with 8.2 rebounds per game.

Hamilton (10-11, 3-5 NESCAC) registered 23 assists on 34 made baskets and shot 48.1 percent (13-27) from 3-point range. The Continentals ended up with 18 offensive rebounds and enjoyed a 48-32 advantage on the glass. The 82 points scored was a season high.

Meredith Kelly '14, who leads the conference with 21.5 points per game, paced Bates with 19 and was credited with four steals. Chelsea Nason '16 added 15 points, Allaina Murphy '15 scored nine off the bench, Allie Coppola '17 hauled in eight rebounds and Julia Rafferty '14 had four assists. The Bobcats, which have lost 10 straight games, dressed just seven players.

The first half featured eight ties and six lead changes as neither team led by more than six points. Murphy gave Bates a 35-30 lead on a jumper with 4:20 left. Hamilton ended the half with a 10-0 run and took a 40-35 advantage into the break. Feigin started the spurt with a 3-pointer, Graber made a jumper and another trifecta and Pulford closed out the opening 20 minutes with a jumper. The Continentals led the rest of the afternoon.

Bates (7-15, 0-8) pulled within two points three times early in the second half but didn't get over the hump. The Bobcats were still within six points with 10:06 to go when Nason drained a 3-pointer to make it 55-49.

Hamilton put the game away with a 14-1 run that made it 69-50 with 6:40 remaining. Graber started the run with a basket and Feigin and Barrett followed with 3-pointers. After a free throw by Bates' Kelly made it 63-50, Ward, Kate Bushell '17 and Graber scored on consecutive possessions to put the game out of reach. The Continentals' largest lead was the final margin. Ward scored 11 of her career high-tying 14 points in the second half.

Hamilton travels to Wesleyan University for a NESCAC game on Friday, Feb. 14. The Bobcats host Bowdoin College for more conference action on Friday.