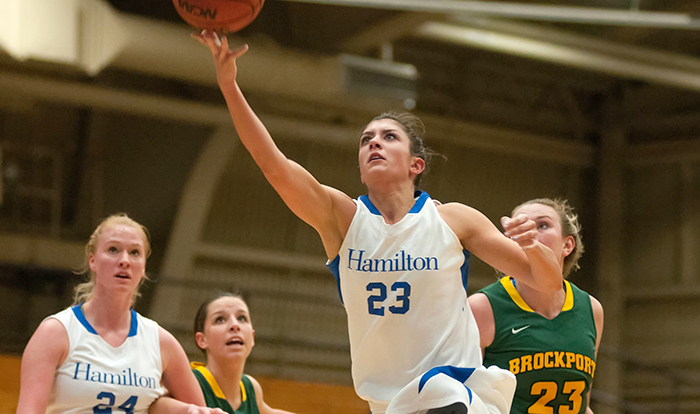 Hamilton College's Sam Graber '16 scored a game-high 18 points and the Continentals cruised to a 58-43 non-conference win against the SUNY Polytechnic Wildcats at Hamilton's Margaret Bundy Scott Field House on Nov. 29.

Box Score

The Continentals (3-3 overall) held SUNY Poly to 34 percent shooting from the floor and finished with 12 steals, which helped force 23 Wildcat turnovers. The 43 points are the fewest Hamilton has allowed this season.

Graber added eight rebounds and three steals. Caroline Barrett '17 chipped in 10 points, Adrianna Pulford '15 tied her career-high with eight and Rachel Fredey '15 was credited with three steals off the bench.

Lauren Knowles '16 posted a double-double with 14 points and 11 boards for SUNY Poly (1-2). Emily Alicea '16 dropped in 10 points and made three steals. Geena Gallo '16 also ended up with three steals.

Knowles scored the Wildcats' first five points and SUNY Poly jumped out to an early 7-2 lead. The Continentals countered with a 10-1 run and led for the rest of the afternoon. Graber made two free throws and Theresa Salud '17 made a layup. After a free throw by Gallo kept the Wildcats in front 8-6, Graber drained two more free throws, Pulford sank a jumper and Graber drove in for a layup that put Hamilton up 12-8 with 8:46 left.

Knowles pulled SUNY Poly within two points at 12-10 with a jumper on the Wildcats' next possession, but the Continentals scored the next five points and they were on their way. Hamilton's advantage grew to 14 points at 30-16 after a Barrett 3-pointer with 31 seconds remaining. A Jillian Hughes '18 basket with six seconds to go cut the Continentals' lead to 30-18 at the break.

Hamilton opened the second half with a 10-0 spurt for its biggest lead of the afternoon at 40-18. SUNY Poly didn't get closer than 14 points the rest of the way.

The Continentals make the short trip to Utica College for a non-conference game on Monday, Dec. 1. The Wildcats travel to Wells College on Saturday, Dec. 6.