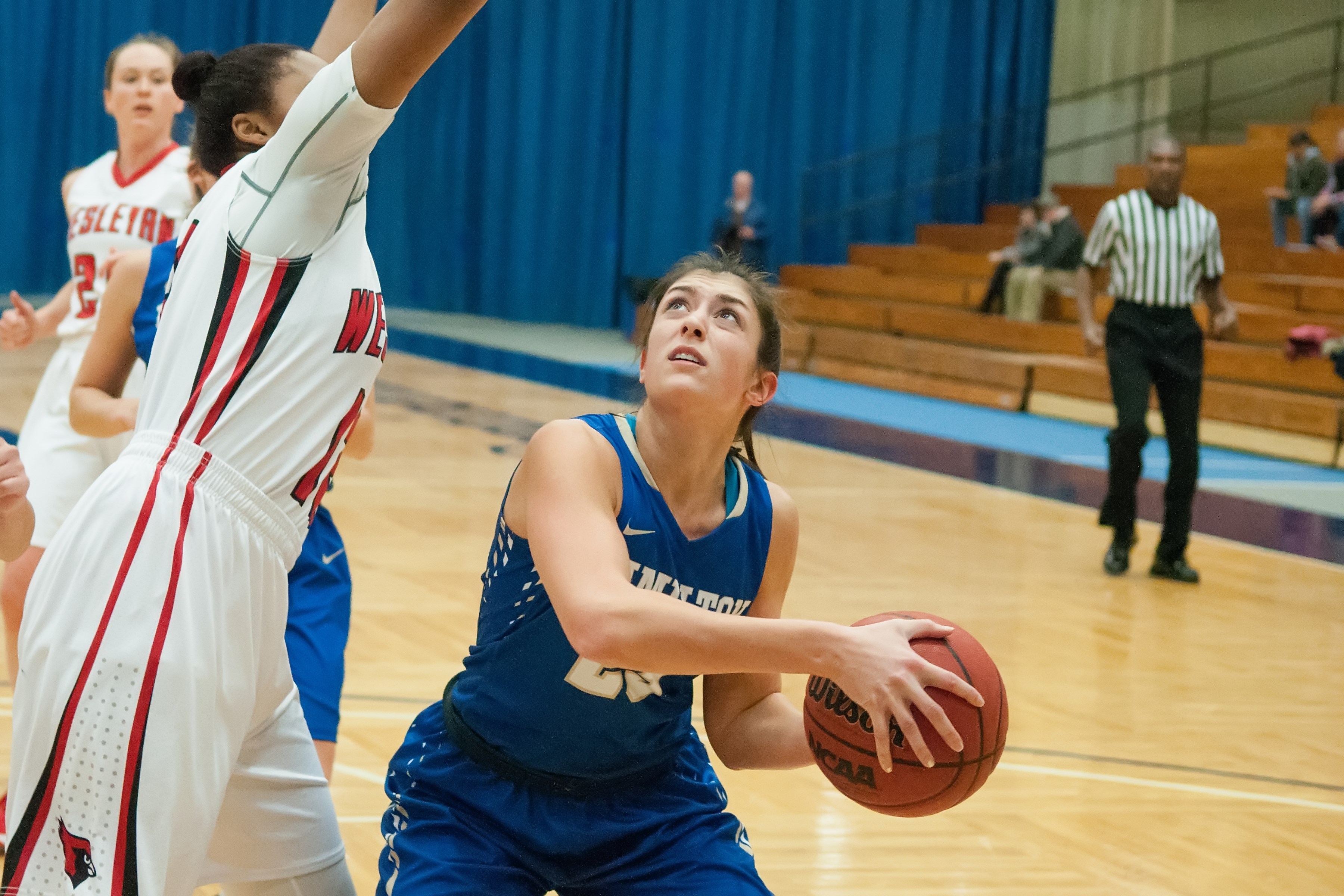 Five Middlebury College players scored in double figures and the Panthers posted a 75-65 NESCAC win in overtime against the Hamilton College Continentals at Middlebury's Pepin Gym on Saturday afternoon.

Box Score

Hamilton's Carly Gruenberg '16 forced the extra period by nailing a 3-pointer that tied the score at 62-62 with six seconds left. The Panthers missed a long attempt at a game-winner at the buzzer. The Continentals never led in overtime and were 1 of 10 from the floor, including 0 of 6 from 3-point range, in the extra session.

Sam Graber '16 paced Hamilton (6-13, 1-5 NESCAC) with a game-high 22 points and she grabbed 12 rebounds in 43 minutes. The double-double is Graber's third this season and the 20th of her collegiate career. She has scored 20 or more points eight times this season, including three of the last four games. Graber is second in the NESCAC in scoring with 17.0 points per game and is ninth with 7.6 rebounds per contest.

Lauren Getman '18 dropped in a career-high 19 points for the Continentals. Caroline Barrett '17 came off the bench to hand out seven assists and Kendall Rallins '19 was credited with five. Hamilton had 21 assists on 27 made baskets. Rylie Mainville '18 blocked three shots in just 14 minutes off the bench.

Colleen Caveney led Middlebury (11-7, 3-3) with 19 points and four steals. Catherine Harrison posted a double-double with 13 points and 12 rebounds, including 10 on the offensive glass. Rachel Collins scored 12 points and Sarah Kaufman and Alex Huffman added 11 apiece. Eileen Daley led all players with 13 rebounds and scored nine points. The Panthers made 20 free throws while the Continentals attempted nine. Middlebury held a 47-39 advantage in rebounds.

In overtime, Daley scored the first point on a free throw after 90 seconds. Graber forged the eighth and final tie at 63-63 on another free throw with 3:10 remaining. A layup by Harrison put the Panthers in front for good, Caveney drained a pair at the line and Daley made it 68-63 on a free throw with 2:13 to go.

Graber made it a one-possession game with a layup and was fouled with 1:59 left. She missed the free throw but grabbed her own miss. Hamilton misfired on a 3-pointer but Getman was there for another offensive board. A layup was blocked by Caveney and Kaufman hit a jumper that made it 70-65 with 1:07 remaining. Middlebury clinched the win with five free throws in the final minute.

The game featured eight lead changes and neither team led by more than five points during regulation. The Panthers held an early 6-3 advantage but the Continentals responded with a 12-4 run. Getman started the spurt with a jumper and a 3-pointer, and Graber added a basket. Buckets by Caveney and Collins tied the score at 10-10 before Barrett ended the first quarter with a layup for a 12-10 Hamilton lead. Graber started the second quarter with a trifecta and the Continentals had their largest lead of the afternoon of five points at 15-10.

Hamilton led 30-28 at the half and matched its largest lead at 40-35 after a Barrett 3-pointer with 4:04 to go in the third quarter. The Continentals held a slim 42-41 advantage after three quarters thanks to a Kate Bushell '17 jumper with 23 seconds left.

Middlebury led for most of the fourth quarter, including 58-53 with 2:32 remaining. Halie Serbent '19 and Getman pulled Hamilton within one point after each made a jumper. On the Panthers' next possession, Middlebury missed two shots and came away with a pair of offensive rebounds before Harrison gave the Panthers a 60-57 lead on a basket from in the paint with 32 seconds to go. Graber cut the Continentals' deficit to one again on a layup with 21 seconds left, and Collins set the stage for Gruenberg's game-tying shot from beyond the arc with a layup just three seconds later.

Hamilton still leads the all-time series with Middlebury, 17-14. The Continentals play their final non-conference contest of the season on Monday, Feb. 1, against SUNY Cobleskill at 6 p.m.