Women's basketball comes up short at Rensselaer
---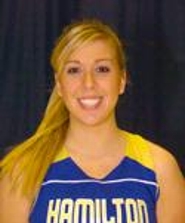 Rensselaer raced out to a 10-point lead at the half and barely held on for a 59-56 win against Hamilton College in the Liberty League and regular season finale at Rensselaer's East Campus Arena on Feb. 20.

Hamilton (15-9 overall, 8-6 Liberty) earned the fourth seed in the league tournament and will face top-seeded Skidmore College in one semifinal at Skidmore on Friday, Feb. 26. The Engineers clash with St. Lawrence University in the other semifinal. Game times have yet to be determined.

RPI (15-10, 10-4) held an 11-point lead, 58-47, with 1:56 remaining in the second half. Hamilton charged back with a 9-0 run to cut the margin to only two points with 30 seconds remaining. Blue Sanders '13 had two baskets in the spurt, and Reisa Asimovic '11 added three points.

Hamilton then forced a turnover and had a chance to take the lead, but Sanders missed a 3-pointer and then the Continentals turned the ball over. RPI was fouled and made 1 of 2 free throws with six seconds remaining for the final margin.

Lisa Olszewski '11 had 14 points and four rebounds off the bench to lead the Continentals, while Sanders finished with 10 points in a reserve role. Madie Harlem '13 chipped in eight points, seven rebounds and four assists.
Eliza Howe '13 made the first basket in the first half, but Rensselaer answered with a jumper and layup to take the lead for good. An old-fashioned 3-point play by Olszewski cut RPI's lead to 12-11. However, the Engineers answered with a 3-pointer and a jumper to go back up by six. RPI hit another 3-pointer to reach its largest lead of the game at 12 (29-17) with 1:02 left in the half. After two free throws by Kim Goidell '13, the Engineers went into the break with a 29-19 cushion.
Hamilton battled to within four points on three different occasions midway through the second half. With 13:27 left, two free throws by Howe made the score 37-33. RPI answered with a jumper, but an Olszewski layup brought Hamilton within 39-35. An Engineer layup with 9:55 remaining made the score 41-35, but Olszewski cut the deficit to four for the third time on a layup with 9:27 left. RPI stretched its lead to as many as 14 with less than five minutes remaining.

The Continentals shot 38 percent from the floor and 65 percent (13 of 20) at the free-throw line. RPI also shot 38 percent from the field and were 15-for-30 at the charity stripe. The Engineers held a 48-35 advantage in rebounds.