Women's basketball cruises to win at Alfred
---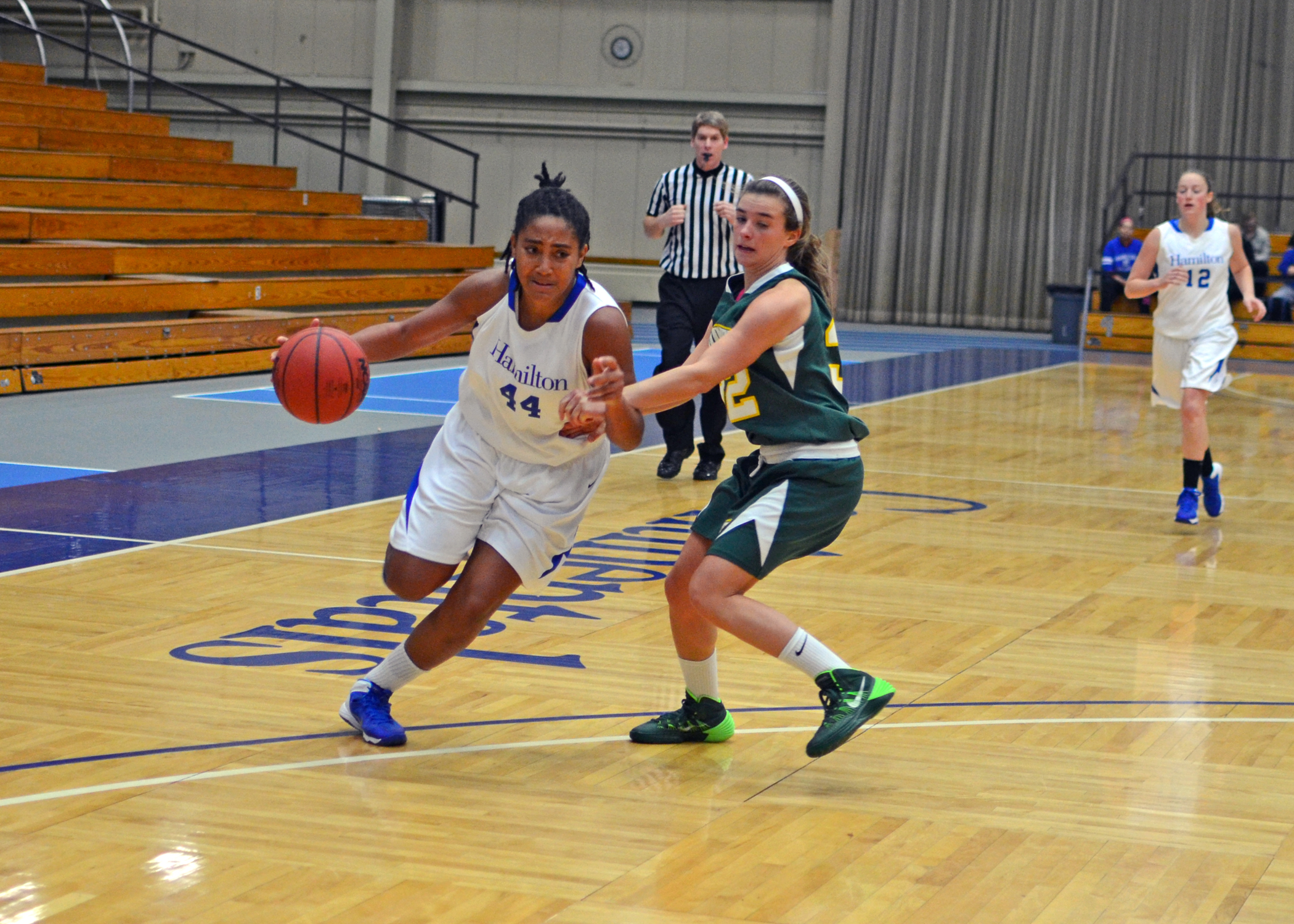 The Hamilton College Continentals scored the first eight points and led the entire way in a 66-46 non-conference win against the Alfred University Saxons at Alfred's Mclane Center on Dec. 6.

Box Score

Four Hamilton players scored in double figures with none posting more than 12 points. Florence Turiaf '17 dropped in 12 points and blocked two shots off the bench, Serena Ward '16 made 4 of 6 shots from 3-point range en route to 12 points and Samantha Graber '16 finished with 12 and a team-high eight rebounds.

Carly Gruenberg '16 added 11 points for the Continentals, Kate Bushell '17 grabbed seven boards and Corinne Hom '16 handed out four assists. Hamilton, which entered the week ranked 16th in Division III in 3-pointers made per game, was 8 of 17 (47 percent) from long range.

Alfred's Harley Cleary led all scorers with 19 and added eight rebounds. Sarah Federico pulled down a game-high 10 boards, and Emilea Harrison and Rachael Stedman were credited with four steals apiece.

The Continentals (4-4 overall) held an 8-0 lead 3 minutes into the first half, but the Saxons climbed back to within a point at 9-8 with 14:38 left. Hamilton scored the next 10 points for its first double-digit lead of the night at 19-8. Turiaf started the spurt with an offensive rebound and putback, Olivia Pimm '14 made a jumper, Ward nailed a 3-pointer and Graber ended the run on another trifecta with 9:51 to go.

Alfred (2-3) didn't get closer than seven points the rest of the night and trailed 36-16 at the break. The Saxons shot just 15.6 percent (5-32) from the field in the first half, including 0 of 9 from beyond the arc.

The Continentals' lead fluctuated between 14 and 26 points during the second half. Alfred ended up shooting 22.8 percent (13-57) from the floor and made 1 of 14 shots from 3-point range. One bright spot for the home team was 20 offensive rebounds and a 48-43 advantage on the glass.

Hamilton hosts SUNY New Paltz for another non-conference game on Tuesday, Dec. 10, at 6 p.m.