Women's basketball cruises to win at Utica
---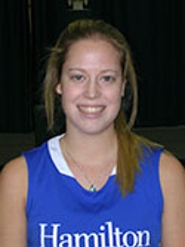 Madie Harlem '13 scored a season-high 22 points and Hamilton College eased past Utica College 62-49 in a non-conference game at Utica's Clark Athletic Center on Dec. 1.

Harlem was 9 of 16 from the field, including 4 of 8 from 3-point range, and added four assists and four steals. Dani Feigin '14 chipped in 10 points and four assists, and Samantha Graber '16 made 5 of 6 shots and finished with 10 points. Kim Goidell '13 led the winners with seven rebounds and five steals.

Meghan Fiore posted a double-double for the Pioneers with 20 points and a game-high 11 boards. Fiore also blocked two shots. Samantha Stayer dropped in nine points off the bench, and Bridget Greenwald scored eight. Mary Miceli came down with eight rebounds -- all on the defensive glass -- and Alyssa Filkins handed out four assists.

The Continentals (2-3 overall) were credited with 14 steals, which helped contribute to 30 Utica turnovers. Hamilton took 18 more shots than the Pioneers and made six more 3-pointers. Utica was 1 of 11 from long range.
The Pioneers (3-3) did enjoy a 38-28 rebounding advantage. The Continentals attempted just two free throws, but shot a season-best 43.5 percent (27-62) from the floor.

Just 19 seconds int0 the first half, Feigin knocked down a 3-pointer to give the Continentals a lead they didn't give up. Hamilton led 15-4 with 13:12 left in the first half, but Fiore scored four straight to pull Utica within seven.

The Continentals took their largest lead of the first half at 33-16 following a 9-1 run that was capped by a Harlem trifecta. The Pioneers scored the final five points of the half and Hamilton took a 33-21 advantage into the break.

Hamilton opened the second half with a 12-0 run for their largest lead of the afternoon at 45-21. Harlem drained two from beyond the arc during the spurt. Utica cut its deficit to 17 at 52-35, but two baskets in a row by Carly Gruenberg '16 brought the lead back up to 21 with 5:36 to play.

The Pioneers made three free throws to get to within 59-42, but Corinne Hom '16 hit from long range to go back up by 20 with 1:31 left. Utica scored the final seven points to close out the game.

Hamilton is back home for another non-conference game against Morrisville State College on Sunday, Dec. 2. Utica travels to Hartwick College on Tuesday, Dec. 4.