Women's basketball cruises to win over Morrisville State
---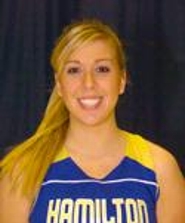 Hamilton College had three players reach double figures in scoring as the visiting Continentals defeated Morrisville State College 76-43 in a non-league game at STUAC Gymnasium on Nov. 24.
Lisa Olszewski '11 and Alex Sowinski '10 led Hamilton (2-1 overall) with 16 points apiece. The total is a career high for Olszewski, who added a game-high nine rebounds. Sowinski chipped in five assists and seven boards. Cate Schafer '10 scored 15 points and pulled down eight rebounds. Reisa Asimovic '11 dished out a career-high nine assists.
The Continentals never trailed. They jumped out to a 14-3 lead in the first 6 minutes, 35 seconds, and led 40-27 going into the break. Hamilton opened the second half with an 18-3 run, featuring seven points from Sowinski and four from Madie Harlem '13 (four steals). The run put the Continentals ahead 58-30. They stretched their lead to as many as 35 points four times late in the second half.
The Mustangs (0-4) shot just 26.8 percent from the field, and Hamilton outrebounded them 65-36. The Continentals ended up with 27 offensive boards. Claire Hunsinger '13 and August Keating '10 came off the bench to grab eight rebounds apiece.
Hamilton will play its home opener -- a non-league game against Utica College -- on Monday, Nov. 30, at 7 p.m.