Women's basketball defeats Clarkson
---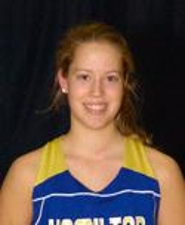 Madie Harlem '13 led all scorers with 15 points, and added seven rebounds and four assists to lead Hamilton College to a 67-44 win against Clarkson University in a Liberty League game at Clarkson's Alumni Gymnasium on Jan. 29.

Alex Sowinski '10 and Kim Goidell '13 scored 10 points apiece for Hamilton (10-6 overall, 3-3 Liberty). Goidell added four steals. Reisa Asimovic '11 contributed eight points and four assists. Cate Schafer '10 brought down five rebounds and recorded four steals. Eliza Howe '13 chipped in nine points and two blocked shots.

The Continentals jumped out to a 13-6 lead with 13:50 left in the first half after a 3-point play by Howe and a layup by Goidell. Clarkson (3-13, 0-6) struggled with the Continentals full-court pressure, turning the ball over 12 times in the first 10 minutes.

Hamilton stretched its lead to as many as 10 points at 20-10 with 9:11 remaining in the first half. The Golden Knights went on a 14-3 run down the stretch to take its first and only lead at 24-23 with 1:30 to go in the half. A 3-pointer by Sowinski in the final minute returned the lead to the Continentals, and Hamilton went into the locker room with a two-point advantage, 26-24.
Hamilton opened the second half with an 11-3 run that featured seven points by Harlem, including a 3-pointer to start the half. The run put the Continentals back up by 10 at 37-27.

Hamilton continued to increase its lead as the half wore on. With 12:52 remaining and the Continentals still up by 10, Hamilton went on a 15-2 run to stretch its lead to 23 at 56-33. The run began with four points by Asimovic, and included a basket by Sowinski from beyond the arc. The Continentals shot 48 percent from the field in the second half, and Clarkson shot just 21 percent.

The Continentals shot 43 percent (25-58) from the floor and 56 percent (14-25) from the free-throw line for the game. The Golden Knights shot 32 percent from the field and were 11-for-18 from the charity stripe. Hamilton's tough defense accounted for 17 steals, which helped force 27 Clarkson turnovers.
Hamilton travels to Canton, N.Y., to play another league game against St. Lawrence University on Saturday, Jan. 30.