Women's basketball defeats Elmira for sixth straight win
---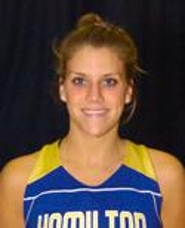 Hamilton College had four players reach double figures in scoring in a 71-65 win over Elmira College in a non-league game played at Margaret Bundy Scott Field House on Dec. 8.
Madie Harlem '13, Eliza Howe '13 and Reisa Asimovic '11 each tallied 12 points for Hamilton. Howe added two assists and five rebounds. Asimovic recorded five boards and five assists. Cate Schafer '10 came off the bench to score 11 points and brought down four rebounds.

Alex Sowinski '10 passed out a career-high 10 assists to go along with nine points and a game-high six steals. The 10 assists were one shy of tying the team record for most in one game. The Continentals were credited with 19 assists on 24 made field goals.
Hamilton (6-1 overall) took the lead 4 minutes, 42 seconds into the first half and held it for the rest of the contest. A jumper by Lisa Olszewski '11 and a three-point play by Asimovic put Hamilton ahead 12-8. Hamilton led 32-25 at the half.

Elmira (0-6) pulled to within 41-38, but the Continentals responded with a three by Harlem and a layup by Asimovic for a 46-38 lead. Elmira didn't get closer than four points again. The Continentals opened up their lead to as many as 12 with 1:13 left. Hamilton kept Elmira at bay by going 13-for-20 at the free-throw line in the final 20 minutes.
The Soaring Eagles shot 55 percent from the field, including 8-for-11 from three point range, but committed 29 turnovers. The Continentals shot 50 percent from the floor and made 13 steals. Hamilton grabbed a 9-8 lead in the all-time series.
The Continentals return to action on Saturday, Dec. 12, when they travel to Williams College for another non-league game at 2 p.m.