Women's basketball defeats Middlebury
---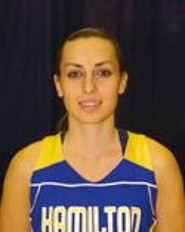 Reisa Asimovic '11 tied a career high with 19 points and added six assists and five rebounds to lead Hamilton College to a 63-52 win against visiting Middlebury College in a non-conference game at Margaret Bundy Scott Field House on Jan. 19.

Asimovic was 7-for-8 from the field and made 5 of 7 free throws as the Continentals (8-5 overall) ended a three-game losing skid. Blue Sanders '13 chipped in 12 points off the bench and Eliza Howe '13 added 10. Lisa Olszewski '11 led a solid defensive effort with three blocked shots.

Hamilton limited the Panthers to 30.8 percent (20-65) from the floor. The Continentals shot 46 percent (23-50), including 5-for-10 from 3-point range, and made 12 of 14 shots at the free-throw line.

The Panthers (8-6) led once at 2-0 after hitting a lay-up. The Continentals scored the next 12 points and never trailed again. Asimovic scored Hamilton's first four points on a traditional 3-point play and a free throw. Howe made a jumper and Asimovic followed with a layup after a Middlebury turnover. Sanders and Asimovic finished the run with layups, and the Continentals were up 12-2 with 14:10 left in the half.

Hamilton led by as many as 14 points in the first half when Sanders connected on a layup and Howe hit a jumper to make the score 33-19. The Continentals settled for a 35-22 advantage at the break. Hamilton shot 50 percent (15-30) from the field in the opening 20 minutes.

The Panthers opened the second half with a 6-2 run to pull within nine points at 37-28, but didn't get any closer. The Continentals' largest lead was 18 points after a 3-point play by Alex Sowinski '10 made the score 55-37 with 4:05 remaining.

Hamilton has won the last four meetings with Middlebury, and the Continentals lead the all-time series 14-11. Hamilton hosts Rensselaer in Liberty League action on Friday, Jan. 22.