Women's basketball defeats Suffolk for first win
---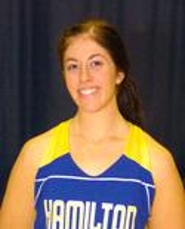 Hamilton College's Blue Sanders '13 scored 25 points as the Continentals posted a 79-59 victory over Suffolk University in the consolation game of the Emerson College Tip-Off Tournament at Brown-Plofker Gym on Nov. 21.
Sanders was 10 of 13 from the field, including three of four from three-point range, pulled down seven rebounds and dished out five assists. Eliza Howe '13 and Madie Harlem '13 had 11 points apiece, and Harlem added four steals. Lisa Olszewski '11 came up with nine rebounds and six blocked shots. Reisa Asimovic '11 was credited with seven assists and was named to the all-tournament team.
Hamilton (1-1 overall) used a 10-1 run to break away from a 4-4 tie early in the first half. The Continentals stretched the lead to 38-19 with 4:05 remaining in the half. Suffolk (0-2) outscored Hamilton 11-2 over the next four minutes, but Sanders stopped the bleeding with a jumper seconds before the end of the half to give the Continentals a 43-30 lead at the break.
A Sanders layup started the second half for Hamilton, and the lead stretched to 50-32 with 16:26 remaining. The Rams made a strong move over the next four minutes and reduced the deficit to nine points at 52-43.
The teams traded baskets for the next six minutes with the margin remaining at nine points at 62-53 with 6:42 left. Cate Schafer '10 started a string of nine straight points for the Continentals with a jumper to put the game out of reach.
The Continentals return to action on Tuesday, Nov. 24, when they travel to Morrisville State College for a non-league game at 7 p.m.