Women's basketball defeats Union
---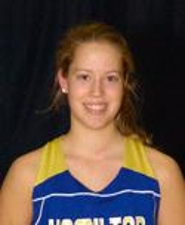 Madie Harlem '13 scored a game-high 20 points to lead Hamilton College to a 58-50 win against Union College in a Liberty League game at Hamilton's Margaret Bundy Scott Field House on Feb. 6.

Harlem also grabbed seven rebounds, blocked three shots and made three steals. Harlem and Alex Sowinski '10 drained three 3-pointers apiece. Sowinski finished with 13 points. Reisa Asimovic '11, a 5-foot-6 point guard, pulled down 10 boards and handed out four assists. Cate Schafer '10 grabbed seven rebounds, and Blue Sanders '13 contributed eight points off the bench.
Hamilton (12-7 overall, 5-4 Liberty) shot just 34.5 percent from the field, but collected 16 offensive rebounds, and finished with a 39-34 rebounding edge. The Dutchwomen (6-14, 4-6) have lost five in a row.

The Continentals scored the first five points on a jumper by Harlem and a 3-pointer by Sowinksi, and they never trailed. Another 3-pointer by Sowinski with 12:59 left in the half gave Hamilton its largest lead all afternoon at 19-2.

Union clawed back to within six points twice late in the half. With 10 seconds remaining, Asimovic grabbed a rebound off a missed free throw and drove the length of the floor for a layup to give the Continentals a 34-26 advantage just before time expired in the first half.

Hamilton's lead fluctuated between six and 14 points during a rough second half. The Continentals increased their lead to 10 at 39-29 in the first 1:49 of the second half with two free throws by Eliza Howe '13 and a 3-pointer by Sowinski.

With 12:41 left, the Continentals reached their largest lead of the second half as a 3-pointer by Harlem made it 48-34. A traditional 3-point play by Union with 1:18 remaining cut its deficit to six points, but Sowinski hit two free throws with 23 seconds remaining for the final margin.
The Dutchwomen shot 30 percent from the floor and the Continentals shot 31 percent during the final 20 minutes. Hamilton leads the all-time series, 27-21.

The Continentals travel to William Smith College for another league game on Tuesday, Feb. 9.