Women's basketball defeats Vassar, clinches playoff spot
---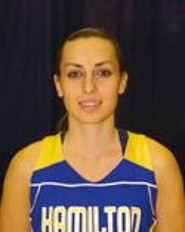 Reisa Asimovic '11 scored a game-high 18 points to lead Hamilton College to a 58-52 win over Vassar College in a Liberty League game at Vassar's Athletics & Fitness Center on Feb. 19.
With the win, Hamilton (15-8 overall, 8-5 Liberty) clinched a spot in the league tournament. The Continentals' seed and opponent is yet to be determined.
Asimovic added four rebounds and four assists to just one turnover. Eliza Howe '13 posted 12 points and three steals, while Cate Schafer '10 contributed eight points and five rebounds. Madie Harlem '13 grabbed a game-high eight rebounds, and chipped in four assists, three steals and six points. The Continentals shot 50 percent from the field, while the Brewers shot 40.4 percent.
With the exception of a 5-5 tie, the Continentals led the entire game. Hamilton built a 12-point lead at 54-42 with 6:57 to play. Vassar (9-14, 5-8) attempted to rally with a 3-point play to cut its deficit to nine at 54-45. Asimovic answered with a basket, but Vassar made another layup. The Brewers got within 56-50 with 2:27 left after a 3-pointer.
Schafer hit a jumper to put Hamilton back up by eight. On the ensuing Vassar possession, the Brewers drew a foul after pulling down an offensive rebound, and sank two free throws to cut the Hamilton lead to 58-52 with 1:36 remaining. Hamilton missed two free throws in the final seconds, but the Brewers were unable to generate any offense in the final 96 seconds.
The Continentals opened the scoring as Asimovic converted an old-fashioned 3-point play. With 9:54 left in the first half, Hamilton started a 18-5 run to lead 35-20. The run featured two 3-pointers by Howe and four points apiece from Asimovic and Schafer. Asimovic recorded 11 points in the opening half, and Howe tallied 10. Hamilton took a 37-27 lead into halftime after shooting 53.5 percent from the floor.
The Continentals will travel to play another league game on Saturday, Feb. 20, at Rensselaer.