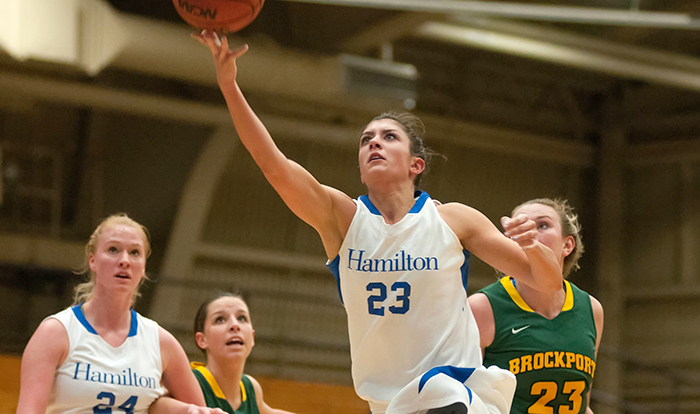 Bowdoin College's Shannon Brady '16 poured in 20 points and grabbed 11 rebounds and the nationally ranked No. 25 Polar Bears cruised to a 75-48 NESCAC win against the Hamilton College Continentals at Hamilton's Margaret Bundy Scott Field House on Saturday afternoon.

Box Score

Bowdoin (15-2, 4-0 NESCAC) pushed its win streak to 12 games and held the Continentals to 23 percent shooting. The Polar Bears lead the all-time series, 10-1.

Brady also blocked three shots for Bowdoin. Sara Binkhorst '15 chipped in 15 points and four assists, and Marle Curle '17 added eight points and four assists. Bowdoin held a 51-34 advantage on the glass.

Sam Graber '16 paced Hamilton (9-7, 1-3) with 17 points, eight boards and two blocked shots. Theresa Salud '17 drained three 3-pointers and finished with nine points. Lauren Getman '18 scored nine points and Caroline Barrett '17 handed out four assists. The Continentals went 15-for-20 at the free throw line.

Hamilton jumped out to an 11-3 lead less than three minutes into the first half. Salud and Graber nailed 3-pointers before Kate Kerrigan '18 countered for the Polar Bears. Getman made one from beyond the arc and Graber capped the rally with a layup.

Bowdoin responded with an 11-0 run and led the rest of the way. Brady and Curle scored in the paint, Kerrigan made a jumper and Binkhorst canned a 3-pointer and a jumper for a 14-11 advantage with 14:24 left in the half.

The Polar Bears eventually led by 16 points at 42-26 after a layup by Lauren Petit '18 late in the half. Graber scored from close range with 23 seconds remaining and Bowdoin led 42-28 at the break. Graber finished the half with 13 points while Bowdoin shot 51.5 percent during the opening 20 minutes.

The Polar Bears led by double digits the entire second half. The cushion grew to 30 points twice at 71-41 after a 3-pointer by Sydney Hancock '17 and at 73-43 on a layup by Emily Campbell '17 late in the game. The Continentals shot 15.6 percent from the floor in the second half.

Hamilton travels to No. 17 Williams College for another conference game on Saturday, Jan. 24. Bowdoin is at Husson College on Tuesday, Jan. 20.