Women's basketball downed by No. 5 Tufts
---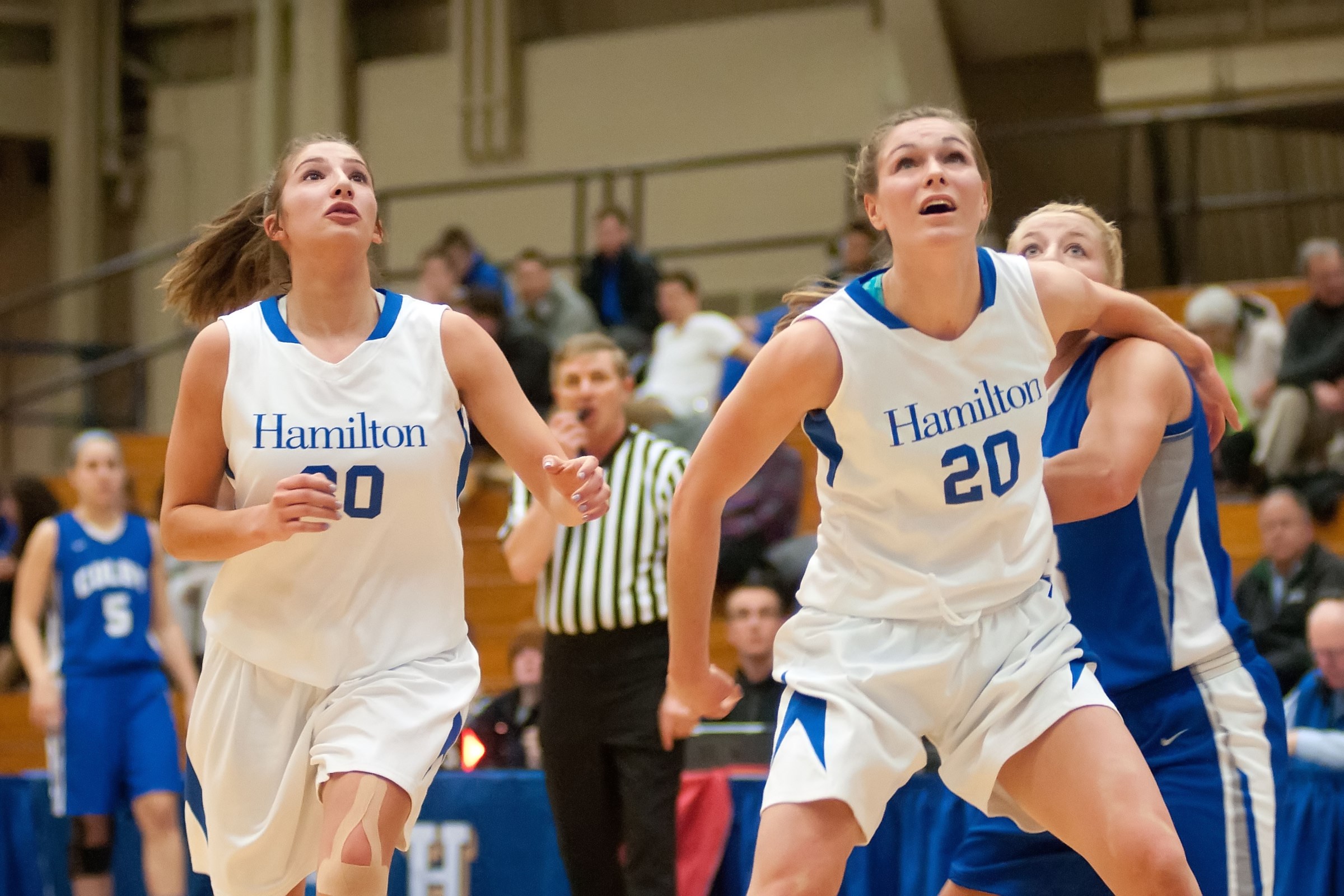 Tufts University's Michela North '17 had a game-high 14 points off the bench and the nationally ranked No. 5 Jumbos cruised to a 72-41 NESCAC win against the Hamilton College Continentals at Hamilton's Margaret Bundy Scott Field House on Feb. 7.

Box Score

Kelsey Morehead '15 chipped in 11 points, seven rebounds, five assists and four steals for Tufts. Caitlin McClure '14 and Liz Moynihan '14 added nine points apiece as 12 players scored for the Jumbos. Tufts made 8 of 20 shots from 3-point range, enjoyed a 41-25 advantage on the glass and blocked eight shots.

Corinne Hom '16 scored a career-high 10 points and was credited with three steals for the Continentals. Adrianna Pulford '15 made all four of her attempts from the floor and tied a career-best with eight points. Carly Gruenberg '16 also dropped in eight points and Olivia Pimm '14 grabbed a team-high seven boards.

The Jumbos (20-0, 7-0 NESCAC) trailed 4-2 early, but they went on a 10-0 run and led the rest of the night. Moynihan started the spurt with the first of her three 3-pointers, Morehead made two free throws, Ali Rocchi '14 canned a jumper and Moynihan drained another trifecta for a 12-4 lead with 12:31 left in the first half.

Hamilton (9-11, 2-5) never got closer than five points after that. Tufts led by as many as 20 points late in the first half before the Jumbos settled for a 34-16 advantage at the break. The Continentals shot 26.9 percent (7-26) from the field during the first 20 minutes.

Tufts' lead fluctuated between 19 and 35 points during the second half when the Jumbos shot 51.6 percent (16-31) from the floor. Tufts' Michelle Wu '16 grabbed an offensive rebound and made a jumper for a 72-37 advantage with 50 seconds to go.

The Jumbos have won eight in a row against Hamilton and Tufts leads the all-time series, 8-1.

The Continentals host Bates College for another NESCAC game on Saturday, Feb. 8. The Jumbos travel to No. 10 Williams College for a conference showdown on Saturday.