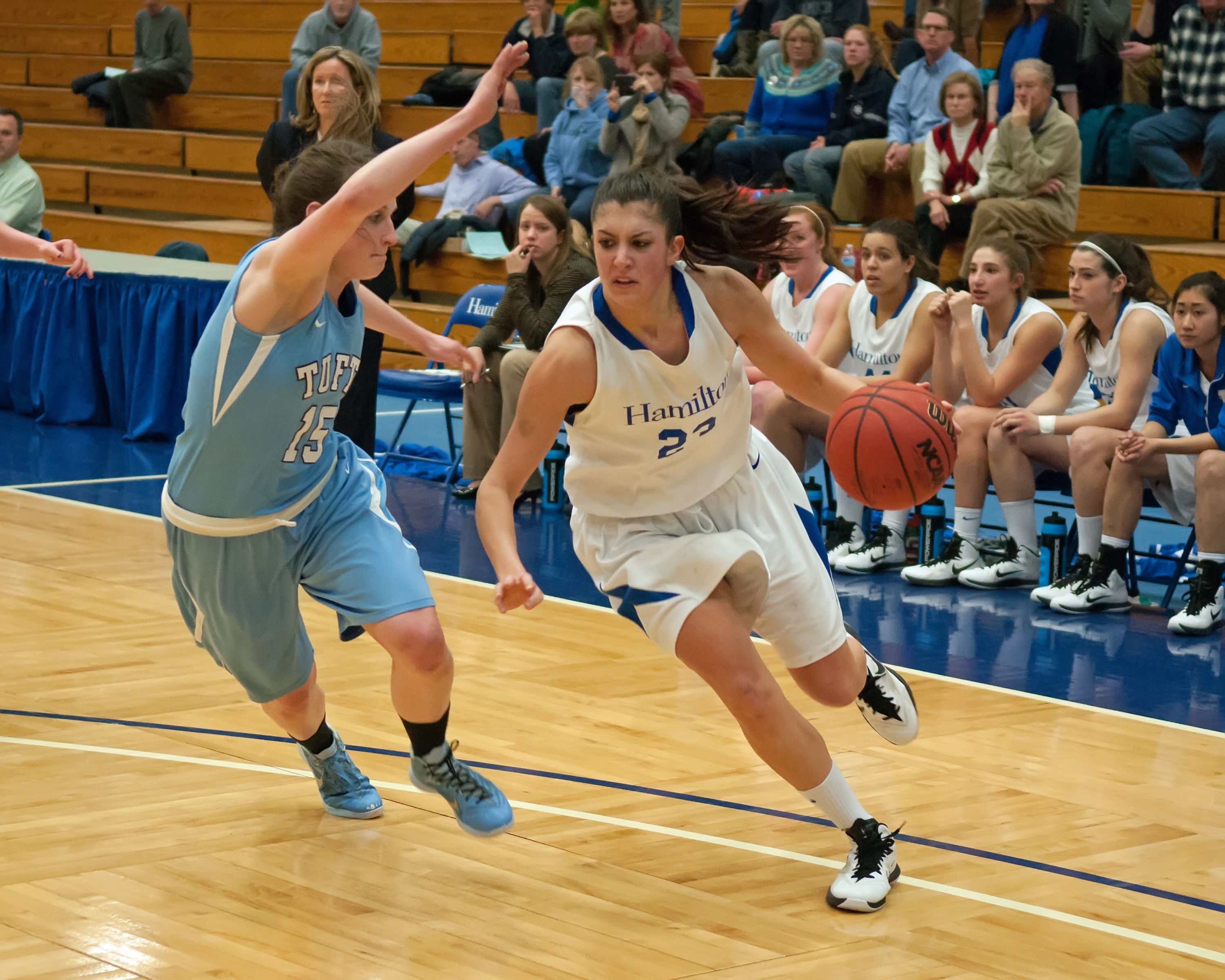 Rochester Institute of Technology rallied from an early 11-point deficit and posted a 64-56 non-conference win against the Hamilton College Continentals at Hamilton's Margaret Bundy Scott Field House on Friday night.

Box Score

The Continentals were playing their first game of the season while RIT improved to 3-0. Hamilton leads the all-time series 8-2 but the Tigers have won the last two.

The Continentals' Sam Graber '16 became the 10th player in program history to score 1,000 points in a career with 2:52 left in the third quarter when she made two free throws. Those points were her last ones of the night as she finished with 11 and has 1,001 all-time at Hamilton. Graber also handed out five assists and blocked two shots.

Lauren Getman '18 posted her third career double-double for the Continentals with 14 points and a game-high 10 rebounds. Carly Gruenberg '16 chipped in 11 points and Halie Serbent '19 added nine in the first game of her collegiate career. Kate Bushell '17 led the defense with three steals.

Tara Lynch, Julia Bender and Cori Okada poured in 18 points each and Lynch added nine boards for RIT. Jessica Glaz, who came into the evening averaging 20.5 points per game, was held to two. The Tigers were 24-for-33 at the free-throw line as Hamilton was whistled for 28 fouls.

The Continentals jumped out to a 7-0 lead on a layup by Graber, a 3-pointer by Gruenberg and a Kendall Rallins '19 layup. Hamilton opened up its largest lead of the night at 17-6 on a Graber trifecta with 3:22 left in the opening quarter. RIT ended the quarter with an 8-2 run and trailed 19-14 after the opening 10 minutes.

The Continentals maintained their lead for nearly the entire second quarter. The one exception came with 1:36 remaining when Taylor Burns made the first of two free throws and pulled the Tigers into a 23-23 tie. Hamilton took a three-point lead into the half after Claire Hebb '19 beat the buzzer with a jumper that made it 29-26.

After two more tie scores in the third quarter, RIT took its first lead at 38-36 with 3:48 to go on a pair of free throws by Okada. Okada, who played 25 minutes off the bench, finished 9-for-10 at the line.

The Continentals moved back in front with a quick six-point burst for a 42-38 advantage with 2:38 left in the third third. Gruenberg made a layup and Graber and Rallins both made two free throws.

The Tigers responded with a 7-0 mini-run that gave them a 45-42 cushion with 34 seconds remaining. A layup by Lynch put RIT in front for good and the Tigers led 47-44 after three.

Hamilton was within one point of RIT twice in the fourth quarter and still trailed by just three at 57-54 with 3:13 to go, but the Tigers were tough defensively down the stretch. The Continentals were 1 of 7 from the field in the final three minutes. A Bender layup made it 59-54 with 3:06 left, Okada buried a jumper with 1:21 remaining and Bender gave RIT its largest lead of the night at 62-54 on a free throw with 20.9 seconds to go.

Hamilton hosts Skidmore College for another non-conference game on Monday, Nov. 23. The Tigers are off until the opening game of the Wendy's College Classic on Dec. 1.